Neymar
The Money Team: $100m man Mayweather hangs out with €222m PSG target Neymar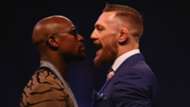 Neymar and Floyd Mayweather have plenty on their plate at the moment, but both looked relaxed after meeting up in the wake of Barcelona's victory over Real Madrid on Saturday.
The former is currently at the centre of intense transfer speculation which suggests that a record-breaking €222 million move to Paris Saint-Germain could soon be made.
Neymar, Coutinho & Mbappe all to leave - 7/4
The latter also has money on his mind, as he prepares to take in a super-fight with UFC star Conor McGregor which is expected to smash box office records.
Neither appear to be letting the sense of occasion get to them, though, after taking the time to chat after Barca's 3-2 win in an International Champions Cup Clasico in Miami.
Mayweather is due to face McGregor in Las Vegas on August 26 in an eagerly-anticipated cross-codes contest.
He is expected to make over $100 million from the fight, as he seeks to protect his previously faultless 49-0 record.
Floyd & Conor: Richer than footballers?
By the time he takes to the ring at the T-Mobile Arena, Neymar may already have written his own piece of history.
The Brazilian forward is a top target for Ligue 1 giants PSG and any deal to take him to the French capital would see a new benchmark set when it comes to the world's most expensive transfer fees.
No decision has been taken on his future as yet, though, with Barca officials and players still hoping that the 25-year-old can be convinced to stay put.