Manchester City
'The Hated One' to 'The Special One': How Raheem Sterling has altered his image at Man City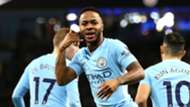 'The Hated One'.
No, not the latest offering from Manchester United manager Jose Mourinho, who has morphed down the years from 'The Special One' to 'The Happy One' and now seemingly 'The Moody One'.
Instead, the moniker above was bestowed upon himself by Raheem Sterling in the summer of 2016.
Having made few friends when forcing a move away from Liverpool in 2015, and then done little to endear himself to the Manchester City faithful during a largely forgettable debut campaign at the Etihad Stadium, the jet-heeled winger became public enemy No. 1 in England on the back of a disastrous showing at the last European Championship.
Well, maybe enemy No. 2. Joe Hart probably wrapped up top spot on that particular chart with his antics against Iceland.
Whatever his standing, Sterling was definitely not flavour of the month, with England supporters taking to booing their own player during a scrappy 2-1 victory over Wales in Lens.
Having anointed himself 'The Hated One' on social media, the 23-year-old would later admit to that period being "the most difficult time" in what has already been a career of wild fluctuations between the highest of highs and the lowest of lows.
More inconsistent showings were to follow, though, and a year on from his frustration in France, it was suggested that City may be prepared to cut their losses on a £44 million asset and trade him in as part of a deal to lure Alexis Sanchez away from Arsenal.
Pep Guardiola sought to quickly quash those rumours, saying: "No chance. Zero chance. Not one per cent chance we will swap Raz because I trust a lot in him."
Sterling claims to have had no "negative thoughts" during that saga, with the supportive words of his manager enough to convince him that he would have a role to play in 2017-18 as part of a star-studded City side.
And what a role he has played .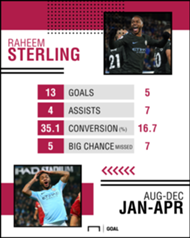 A red card for over-celebrating the most dramatic of winners against Bournemouth in August offered an early bump in the road but by the midway point of the season, Sterling was flying.
In 19 Premier League games prior to the turn of the calendar year, 13 goals had been scored (boasting a conversion rate of 35.14), four assists recorded and 30 chances created (at an average of 1.6 per game).
In 2018, Sterling's output has shifted somewhat, with his game having become more about creativity and less about providing the finishing touch – although not entirely through choice.
Over the second half of a title-winning campaign, assist figures have been raised to seven – in just 12 outings – while creating a further 24 opportunities for grateful team-mates (2 per game).
There has been a noticeable dip in the goalscoring department, with the target found five times amid a run which has seen Sterling's conversion rate slump to 16.67 and seven 'big chances' squandered – with a derby defeat to Manchester United at the Etihad proving to be particularly wasteful.
He is, however, aware of his faults , admitting to Sky Sports : "Of course, people see it and my problem is that when I have too much time to think that's when I mess up a lot. If it's more instinctive with less time to think I am much better. If it's through on goal and I have too much time to think I try to over-complicate things. That's when I do mess up at times. I have full confidence in myself and believe I will get it right in a matter of time."
A nomination for the PFA Young Player of the Year award suggests that a few chinks in the armour are being forgiven, with Sterling's most recent outing seeing him provide three assists in a Man of the Match showing against West Ham – the first time in his career that he has achieved such a feat.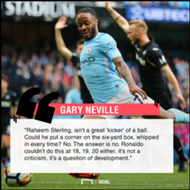 He has also become the second man – after Leroy Sane in the same meeting with the Hammers – to record 10+ goals and assists across a solitary Premier League season. Not bad when you consider the calibre of talent that City have at their disposal, and have had down the years.
And the most exciting thing is, there is the promise of more to come, especially when taking into account his continued 'either or' output when it comes to goals and assists.
Former England coach Gary Neville told Sky Sports  when selecting the most illustrious of role models: "[Cristiano] Ronaldo, when he first joined United, wasn't a free-kick taker, he wasn't a corner taker, he wasn't good from a deadball, he wasn't a great 'kicker.' Raheem Sterling, isn't a great 'kicker' of a ball. Could he put a corner on the six-yard box, whipped in every time? No. The answer is no.
"Ronaldo couldn't do this at 18, 19, 20 either, it's not a criticism, it's a question of development. Can Sterling get to those Ronaldo or [Thierry] Henry levels? That's debatable, because they're two of the great players but that's the challenge."
Sterling may never be 'The Popular One', but then neither is Ronaldo.
He has, however, successfully shaken 'The Hated One' tag – at least outside of the red half of Merseyside – and can complete his road to redemption when back in the colours of England at this summer's World Cup finals in Russia.