Africa Cup of Nations
Tanzania approved to host AFCON next year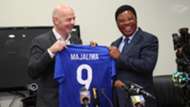 Tanzania is expected to host the Africa Cup of Nations (AFCON) under 17 next year in Dar es Salaam city
The Minister of Information, Arts, Culture and Sports, Harrison Mwakyembe said today (Sunday) in Dar es Salaam that contrary to previous announcement, FIFA President Gianni Infantino agreed AFCON matches to be played in Dar es Salaam.
Mwakyembe welcomed Infantino move to allow the tournaments to be played in Dar es Salaam saying it will help to reduce the costs, previous arrangements was for the matches to be hosted in two cities.
"We were struggling to find another region to host the AFCON matches, and this made us to face a lot of challenges due to poor infrastructure," he said.
According to the minister, Dar es Salaam city has three quality Stadiums including Uhuru, National Stadium and Azam Complex that would fit to host AFCON tournament.
This will be first time the country is hosting AFCON under 17 tournaments.