World Cup
Stuart Baxter insists his mandate wasn't qualifying Bafana Bafana for the World Cup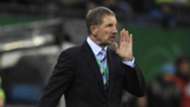 Bafana Bafana coach Stuart Baxter insisted after their 2-0 loss to Senegal that his mandate was not qualifying for the 2018 Fifa World Cup as calls for his head gathers momentum.
"My mandate was never about 'qualify for the World Cup or you go home'. I want to make sure that's we are making progress," Baxter told the media after the game.
Bafana fell to first half goals inspired by Liverpool's Sadio Mane where he set up Diafro Sakho for the opener and forced Thamsanqa Mkhize to put the ball in his own net.
Baxter becomes the first Bafana coach to fail at two attempts to get the nation to a World Cup after failing to do so for the Germany 2006 edition.
"I've seen some of the performances that we need to move more quickly. We need to make progress," he continued.
"We need to have everyone backing in the country, including Safa and that's the only way we'll get better," Baxter said.
The win booked a World Cup ticket for the first time since 2002 for the Teranga Lions, with a return match set for Tuesday in Dakar against Bafana, it will be all about pride.
"I want to look at the log first and see. Do we have a chance to be better than us?
"If that's the case we'll play our strong side and try to win this game. I don't think we had a lack of effort from the players. I may give a chance to a few lads who work very hard amd haven't had game-time.
"It's a dead-rubber. It's about pride for the shirt and pride for the results of the country. So we will go and do the best we can," Baxter concluded.