Opinion
Spurs aim to pile on the misery & plunge Chelsea into crisis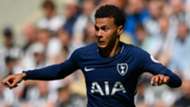 ---
COMMENT
---
As Tottenham prepare to face Chelsea at Wembley, Spurs fans continue to urge the club to secure new signings.
Moves for Davinson Sanchez of Ajax and Ross Barkley of Everton are dragging on, while a bid for Celta Vigo's Pape Cheikh Diop has done little to inspire faith among the supporters who will flock to the national stadium on Sunday. A £15 million bid for Ryan Sessegnon, of Fulham, has been rejected.
Adding further fuel to the transfer fire is the apparent unhappiness of left-back Danny Rose. The England international took to The Sun to register his displeasure at the club, urging the side, in a specially arranged interview, to sign players that he "didn't have to Google". Fans have turned on him, and the betting now is that he is unlikely to ever play for the club again. This weekend's opponents have been linked with a potential move.
But Spurs fans must take heart, as it could be worse; they could be supporting Chelsea.
Antonio Conte's men kicked off their Premier League title defence with a disastrous 3-2 defeat to Sean Dyche's Burnley. The signings of Tiemoue Bakayoko, Alvaro Morata and Antonio Rudiger have not allayed fears that the squad is stretched to breaking point, and Conte faces a genuine battle to piece together a team for this Sunday's encounter.
Gary Cahill and Cesc Fabregas were both sent off against Burnley, while Pedro is suspended and Eden Hazard is injured. He did play in a behind-closed-doors game on Thursday, but faces a battle to be fit for the encounter with Spurs. Diego Costa, probably the Premier League's second best striker behind Harry Kane, has been exiled and is currently in Brazil, hoping to seal a move to Atletico Madrid.
Players such as Nemanja Matic, John Terry, Asmir Begovic and Nathan Ake have been sold without adequate replacements being found. Conte himself has admitted that he wanted Bakayoko to learn from Matic, not step into his boots.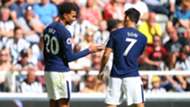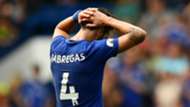 While Spurs have yet to make any significant dent in owner Joe Lewis' chequebook, they have retained key players. The only significant sale is that of Kyle Walker, who joined Manchester City for an eye-watering £50m. Reports suggest that Mauricio Pochettino viewed Walker as expendable, and the superb debut of Kyle Walker-Peters against Newcastle last weekend – the 20-year-old won Man of the Match in a 2-0 win – suggests that Pochettino's decision was informed by foresight.
This weekend, though, marks an acid test for Spurs' credentials. Their squad has not been improved by recruitment, but it is young, and it is growing. The likes of Kane, Dele Alli, Christian Eriksen and Toby Alderweireld have yet to peak. The oldest of the quartet – Alderweireld – is arguably the most ready-made player Spurs have bought in years, but he is still just 28.
The old adage goes that a team must recruit from a position of strength. A second-placed finish last season means that Spurs will enter the Champions League at the group stage this season, and will have to fight on four fronts. But Pochettino clearly trusts this group of players, and he believes in his ability to coach players to standard. One must conclude, from the rumblings surrounding his opposite manager at Chelsea, that Conte does not feel the same.
He has not been delivered the target that he requested, that much is clear, with Romelu Lukaku the clear choice for the striking position to replace Costa. Morata came in instead. More to the point, the players that have come in have merely filled holes in the squad, rather than truly strengthening it.
Pochettino has faced no such problems. He has coached his team well, turning Spurs from also-rans into genuine title contenders over the last two years. They have been bold in the transfer market, but their strongest XI remains the best in the league.
Chelsea can no longer challenge that assertion, as they could last season, and a loss to Spurs would plunge them into crisis.
Pochettino, thus, has a chance to prove that coaching trumps spending, and must be relishing the chance to kick off Spurs' Wembley era with a defining win over Conte's shockingly thin selection.