Super League
SportPesa strikes late to stun Tradewinds Aviation in Left Foot league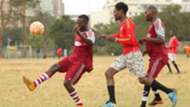 SportPesa came twice from behind to beat Tradewinds Aviation 3-2 in a closely fought Division Five match of Left Foot league over the weekend.
The betting firm scored their goals through Balo Otieno, Geoffrey Njoroge and Kamau while Tradewinds replied via Victor Sisa and Joseph Ello.
In other matches of the same category, Selecta One Limited won 2-0 against Manarat FC, Ecobank Limited beat Oracle Limited 2-0, CBA Bank forced a 1-1 draw with Nation Media Group, Royal Media hammered Allianz Insurance 4-0, Bamburi Warriors beat South C Academy 3-2 and Letshego won 2-1 against General Electric.
In Division One, Strath FC also recovered to beat GreenZone Property 3-2 in a five goal thriller, Rapid Communications won 3-1 against Dayliff FC, Amiran Lions beat Bethel FC A 2-0 and Rapid Communications won 2-0 against Schindler Limited.
All Saints Cathedral pulled another convincing 3-0 win against Bethel FC B in a Division Two match while Kingsways Group won 2-1 against Ping Limited, Saad Advocates drew 1-1 with NIC Bank, Toyota Kenya lost 1-2 to Disciples FC and MP Shah beat Safaricom 3-1.
In Division Three, One Africa Logistics won 2-0 against Young Boys, Astral Aviation won by similar margin against Methodist Guest House, Oilibya went down 3-2 to Nyayo Kingdom Champions and Lavington United Church lost 1-0 to Liaison Group.
In the Mombasa league, Nation Media Group roared to a 7-1 win over CBA, Maersk Group lost 4-3 to Sea Bulk Limited while Bamburi Cement succumbed to a 1-4 defeat at the hands of Tradewinds Aviation.