Real Madrid v Barcelona
Sergio Ramos sends message to Pique after El Clasico red card
A war of words that often has dominated social media spilled over into real life on Sunday as Sergio Ramos jawed at Gerard Pique moments after the Real Madrid defender was sent off in El Clasico.
After referee Alejandro Hernandez gave Ramos his marching orders for a two-footed lunge on Lionel Messi in the 78th minute, the Madrid defender argued with the official for a few moments. He then put the captain's armband on Marcelo and started to leave the field. 
As he walked off, he noticed Barcelona centre-back Pique and began to make a talking motion with his hand, with cameras capturing Ramos saying, "Talk now. Talk now."
He later pointed toward the boxes at the Bernabeu, making references to Pique's previous comments that the Barca defender's view was that La Liga officials often sit in the box and favour Madrid.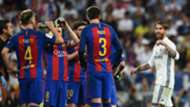 Pique also had made his own gesture to the directors' box after a defeat to Villarreal, with many interpreting the incident as blaming Liga president Javier Tebas for two controversial decisions in that game.
The Spain internationals said as recently as March that they're able to put aside their well-publicised beef for the sake of the national team, starting together in a World Cup qualifier against Israel and a friendly against France.
But Sunday's incident is just the latest in a war of words - both written and spoken - between the two defenders.