Wayne Rooney
Rooney reveals why he snubbed lucrative offers to trade Man Utd for Everton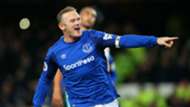 Wayne Rooney says he turned down more lucrative offers to head for Everton from Manchester United because he wanted "more pressure".
After 13 goal-laden years at Old Trafford, which saw him become the Red Devils all-time leading scorer, the 32-year-old was allowed to head for the exits in the summer of 2017.
Various landing spots had been mooted for a man who has also found the target for England on more occasions than anybody else in history.
Big-money offers were rumoured from China and America, but Rooney opted to return to his roots on Merseyside as he believes he still has plenty to offer at the very highest level.
Quizzed by the BBC on why he snubbed approaches from abroad, Rooney said: "That's not me, I need those goals, I need that pressure. That desire to play would have been lost if I'd chosen that other option.
"I knew that coming back to Everton was more pressure - that's what I wanted. I wanted to prove myself again to the Everton fans and to try to help this club move forward and win silverware.
"I think it was the perfect fit for me and hopefully in the next two or three years we can do that."
Rooney also believes that his career at the top can be extended by a positional switch which has been in the pipeline for a number of years – with his game no longer all about goals.
He added: "The one thing which stays is my attitude to playing, my attitude to win, but of course you change and adapt your game and that's what I feel I've done over the last few years.
"Two years ago, I thought my best position to play was midfield, and that's starting to happen now."
Rooney will not, however, be dragging his career on once his powers start to fade, with the decision to retire from international football proving that he knows when to walk away.
"I'm an honest player - if I feel I'm not good enough to play, I wouldn't put myself in that position where I'm hanging on and thinking I need to keep going and keep trying," he said.
"If I'm not good enough to be in the team then I'm honest enough to say that will be the time to finish playing."