PSG
Ronaldinho meets Cavani and Di Maria ahead of PSG v Monaco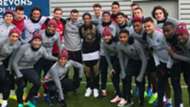 Ronaldinho has visited former club Paris Saint-Germain ahead of Sunday's crucial Ligue 1 match against Monaco.
The former Brazil international made his name at PSG between 2001 and 2003, before going on to join Barcelona, where he helped to kickstart an era of success at Camp Nou.
Ronaldinho has returned to the French capital to spend the weekend with his old team, which will culminate in him watching the Monaco game at Parc des Princes.
The match is a vital one, with champions PSG sitting three points behind Radamel Falcao & Co at the top of the table in an enthralling title race that also involves Nice.
Deux générations de joueurs du @PSG_inside se croisent
#PSGlegend pic.twitter.com/SU7sMoqzsn

— PSG Officiel (@PSG_inside) January 27, 2017
L'éternel @10Ronaldinho
#PSGlegend pic.twitter.com/sNnhFo7UwG

— PSG Officiel (@PSG_inside) January 28, 2017
Ronaldinho arrived in Paris on Friday evening after a flight from Rio de Janeiro, where he was greeted by supporters.
The 36-year-old was then shown around the stadium and conducted an interview with the club's TV channel, before returning on Saturday to meet the first-team squad as they prepared to face Monaco.
WATCH: Di Maria tears it up in training
Ronaldinho was presented with a signed number 10 shirt and posed for a photo with the whole squad, a shot which contained the likes of Edinson Cavani and Angel Di Maria.

He also took separate photos with many of the players, including captain Thiago Silva and the Brazilian contingent.
"Paris is a special club for me, as it was here that I launched my European career," Ronaldinho said.
@PSG_inside pic.twitter.com/6pA5GgzuKx

— Ronaldinho Gaúcho (@10Ronaldinho) January 28, 2017
C'est grâce à des joueurs comme lui que le foot fait partie de ma vie. Merci. #TÔTOUTARD pic.twitter.com/6DMENlwJwN

— Thomas Meunier (@ThomMills) January 28, 2017
Guess who's back in town? See you Sunday at the Parc, @10Ronaldinho !!! #PSGASM #PSGlegend pic.twitter.com/JJ9ieLRIM0

— PSG English (@PSG_English) January 27, 2017
"I have a lot of respect and love for this club. Of course it's special for me to come back to where it all began.
"I hope to see a really good match here, a real spectacle out on the pitch. I don't how it will play out but I can't wait to see the fans out in force at the Parc des Princes."
PSG defender Thomas Meunier tweeted an image of him meeting Ronaldinho and wrote: "It is thanks to players like him that football is part of my life. Thank you."
Retrouvez l'interview intégrale de @10Ronaldinho https://t.co/tufAMxSQb1
#PSGlegend pic.twitter.com/mHtDcrhOks

— PSG Officiel (@PSG_inside) January 28, 2017
The Parc des Princes and @10Ronaldinho = a perfect match #PSGlegend pic.twitter.com/PA1FwODzid

— PSG English (@PSG_English) January 27, 2017
Ronaldinho is the second major former star to visit in the last week after David Beckham returned to Paris.