PSG v Liverpool
Robertson slams 'falling' Neymar's theatrics during Liverpool's loss at PSG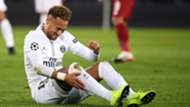 Andy Robertson admits it was frustrating for Liverpool to see Neymar "falling" during a theatrical performance from Paris Saint-Germain's forward during a crunch Champions League clash.
The Brazil international has picked up an unfortunate reputation for going to ground easily, with those qualities on display again in European competition on Wednesday.
Neymar did net what proved to be the winner for PSG at Parc des Princes, with the hosts grinding out a narrow 2-1 victory.
His display did not sit well with everybody, though, with Robertson echoing the thoughts of manager Jurgen Klopp when assessing a player considered to be one of the best on the planet.
The Scot, who was involved in an angry exchange with Neymar at one stage, told Sky Sports: "I suppose they were in the lead and they were looking to waste time. You can use gamesmanship, play-acting, you can use it all really.
"I would like to know how much time they wasted tonight. It's frustrating when [Neymar] is falling like he is.
"It's all part and parcel of his game and we needed to deal with that. We didn't quite control our aggression.
"Of course it was frustrating. But when you play against PSG you know it is something you are going to come up against, especially with him. It wasn't something we quite dealt with."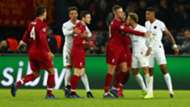 Liverpool now require a 1-0 win or victory by two clear goals over Napoli in their final Group C fixture in order to progress, with a place in the last-16 resting on what promises to be a highly-charged European night at Anfield.
Robertson added: "We know we just go and try to win the game. I am sure everyone else will clear it up for us - I am sure the gaffer will know exactly what we need to do.
"It is at Anfield. I am sure we will have another special night, the fans can create a special atmosphere and hopefully get the result that we need.
"We have been good at home and we need to continue that. Napoli got the better of us over there. It was a good performance by them.
"But I am sure we will watch the match back and see what we did wrong because it wasn't a good performance. We will look to put it right and we look forward to the challenge."