Liverpool
Robertson proves to Liverpool legend Riise that no 'big name' is required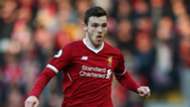 Andy Robertson's performances for Liverpool have altered the opinion of John Arne Riise and shown that no "big name" is required at left-back.
The former favourite at Anfield admits to having been sceptical about the Scotland international following his arrival from Hull City in the summer of 2017.
Liverpool did invest £8 million in the 24-year-old, but his arrival did not generate the kind of fanfare which greets the addition of a household name.
Robertson has, however, proved to be a shrewd signing, with his performances for the Reds justifying Jurgen Klopp's recruitment call and silencing any doubters.
Former full-back Riise told the Liverpool Echo on the former Dundee United youth: "To be honest, I didn't see it coming.
"I didn't understand why Liverpool bought him in the beginning. People were talking about getting a big name player at left-back.
"He only played a few games early on in the season with Alberto Moreno the preferred left-back at that time. When Moreno got injured, that gave Robertson his chance and he did extremely well.
"I have been really impressed by him. He's aggressive, he's offensive, he's quick and he never stops running. Hopefully now he starts getting more assists and a goal or two. That's what is maybe missing from his game so far."
Robertson has helped Liverpool to cement a top-four standing this season and make their way to the quarter-finals of the Champions League.
Domestic rivals Manchester City are next up in Europe, with Riise looking forward to an intriguing clash in a competition which provided him with many memorable moments down the years.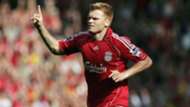 One of the heroes from the 2005 'Miracle of Istanbul' added: "This year it's been hard to achieve things because City are playing football that we've never been before in the Premier League. But I feel like the club is really taking steps forward.
"We have a tough tie against City but you never know what can happen. If you want to win the Champions League, you have to beat the best.
"We could have got an easier game but at the same time it's an all English game. City's players will know that coming to Anfield on a European night will be something big.
"I had my best moments in a Liverpool shirt on Champions League nights. I know that the players and the fans will be up for it. City maybe the small favourites but my money is on Liverpool."