Nigeria
Rivers Angels win maiden Nigeria Women Football League Champions Shield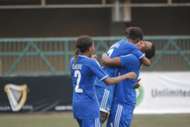 Rivers Angels are champions of the maiden Nigeria Women Football League Champions Shield title after defeating Nasarawa Amazons 4-3 on penalties at the Agege Stadium.
Rivers, who were 2017 Federation Cup winners had harboured hopes of avenging their Nigeria Women Premier League Super Four 1-0 defeat against eventual champions Nasarawa.
And the Jewel of Rivers launched their season's quest to win laurels with Alice Ogebe's first-half strike in the 42nd minute.
In the second half, the Lafia based girls resumed with a great intensity and they luckily found their leveler through Ejalonibu Adejoke in the 58th minute.
Though Ogebe's 79th-minute effort almost earned Rivers the trophy in regulation time but was ruled out for an offside as the encounter was separated through penalties.
In the end, goalkeeper Oluehi Tochukwu was the heroine of the match as she saved two kicks to inspire Edwin Okon's ladies to a historic triumph.
Nigeria Women Premier League title holders Nasarawa Amazons will commence their defence against Lagos based FC Robo at the Lafia City Stadium on April 7.