Transfers
Rivaldo Coetzee is a complete player, says former Bafana Bafana coach Shakes Mashaba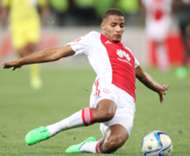 Ajax Cape Town recently confirmed that Rivaldo Coetzee was heading to Scottish giants Celtic as a deal had been struck, and no one has been more excited by the news than the man who gave the defender his international debut at the tender age of 17.
The former Bafana Bafana coach Shakes Mashaba believes that the 20-year-old's big money move is testament to his potential, and tips Coetzee to star at the highest level.
"It is a good thing for him to get this opportunity of playing at the highest level of the game in Europe'" Mashaba told The Sowetan.
"He must go there and stomach everything that life in a foreign country is going to throw at him like the unusual weather' different food' lifestyle and many other things because. It is not going to be easy for him," he added.
Furthermore, Mashaba has described Coetzee as the 'complete player' and has elaborated on the player's characteristics which attracted him at the time.
"When I saw him' I liked his physical strength because he never shied away from getting stuck in and he was never bullied by opponents," he said.
"He was not stereotypical like most players because he could perform many other functions on the field.
"In one of the matches' I played him in the midfield and he impressed me with his first touch' control of the ball and general reading of the game where he managed to find gaps.
"To me he is a complete player and he will do well overseas if he continues to learn and show the right attitude.
"I don't know him well off the field and but he has always come across as a respectful boy whenever I encountered him in the national team," he concluded.
Meanwhile, news of the Coetzee's impending departure has seen him earn praise from South African Football Association (Safa) president Danny Jordaan.
"It is something that he wanted' he saw as a dream for himself and we want to wish him all the best'" Jordaan said.
"You talk about deep rural areas' which is where our partnership with La Liga is going to focus on' and Rivaldo comes from a rural area called Kakamas in the Northern Cape.
"Some of our best players come from the rural areas and we must not overlook the fact that they too have ambitions to play for Bafana Bafana' overseas and be big stars," he expressed.