Super League
Raimi wants Selangor to maintain winning momentum against Kedah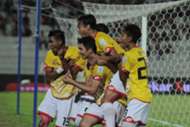 ---
 BY       OOI KIN FAI      Follow on Twitter
---
For all the troubles that surrounded Selangor prior to the start of the 2017 Super League season, the Red Giants are sitting pretty in 3rd spot after six matches after only one defeat thus far. On Wednesday they will go up against league leaders, Kedah and it's an encounter that Raimi Nor is keenly looking forward to.
In their last match at the weekend, Selangor gained three valuable points away to Kelantan - a result that Raimi is pleased to have achieved.
"We are very happy that our hardwork and team work paid off when we took 3 points back from Kota Bahru," said the left-footed player on the club's official website.
With the quick turnaround between matches, the 30-year-old Raimi knows that it is vital for their bodies to recover if they are to get a result against the red-hot Kedah team who are the only team yet to lose a game in the league thus far.
"However with only 3 days of rest before facing Kedah, we continue to work hard on recovery as well as tactical work. We will try to maintain our winning momentum as we have in our last two matches so that we can get another win in front of our home fans," added Raimi.
In the four years since P. Maniam was last in charge of Selangor as the caretaker head coach, Raimi has overseen three other head coach being in charge. Amongst there was Mehmet Durakovic - a coach that he will come up with after Kedah when Perak visits Selayang Stadium on Saturday.
Not wanting to look too far, the player who have started all but one of Selangor's league fixtures thus far thinks that the reunion with Durakovic could potentially play into the hands of the players that the Australian was once in charge of.
"Of course there are many players here who have worked with Durakovic before and are familiar with his methods. Maybe that will play to our advantage. What is important is that we follow all the tactical instructions that our coach will give us then. For now, our focus is only on Kedah," said Raimi.