PSB Academy partners FAS to promote continuous learning among players and staff with study grants for higher education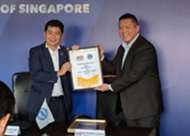 PSB Academy, one of Singapore's leading PEIs, and FAS have signed a memorandum of understanding to offer all registered football players and staff at FAS study grants for the Academy's range of certificates, diplomas and university partner degrees.
Nurturing future-ready players
As part of the agreement, for the next 5 years, eligible players and staff who enrol for a course at PSB Academy will enjoy study grants that will cover a portion of their respective course fees. An additional SGD 10,000 worth of course rebates will be given to any Singapore Premier League club which has 10 or more players who enrol for diploma or degree courses together. As an extension of PSB Academy's ongoing partnership with The Credit Co-operative, TCC, study grant recipients have the additional option of taking a 0% interest-rate1 study loans for their remaining course fees.
One diploma for the road
In attendance at the signing ceremony was Fazrul Nawaz, a 33-year old striker for Hougang United Football Club, and recipient of PSB Academy and FAS's first study grant. Fazrul is undertaking a Diploma in Sport and Exercise Sciences, and hopes his certification will provide him a good foundation to become a youth coach to football hopefuls.
"It definitely takes some dedication and discipline to be a student-athlete, to balance a professional football career and studies. No matter how we perform on the field, the support system we have is always important, and I am encouraged by FAS and PSB Academy's efforts in trying to provide more athletes opportunities to look beyond what we can do as footballers, to either train up a next generation of winners, or have the confidence to pick up on a new skill and hone it for our own future," says Fazrul.
Pipeline of talent for the sports industry
Aside from Singapore's football players and staff, PSB Academy students will also be able to reap benefits from this partnership – FAS will offer eligible students or graduates an opportunity to intern with the association, or with Singapore Premier League's clubs.
"We are renewing our commitment to developing future-ready talent for Singapore through the support of our local athletes today. We love what happens on the field, but want to focus on nurturing their skills off the field," says Derrick Chang, CEO, PSB Academy. "On top of that, this partnership with FAS provides our students real opportunities to gaining exposure to the sports industry, and allow them to pursue career interests in this emerging arena. We appreciate that FAS shares the same dedication to youth development and open to training interns for the betterment of our sports associations—we hope that this transfusion of fresh blood will keep the spirit of innovation and improvement alive within the industry."