Gareth Bale
Proof Bale's absences are becoming a concern for Real Madrid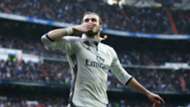 ---
ANALYSIS
---
For the 19th time this season, Real Madrid will line up without Gareth Bale in the squad. Ahead of Sunday's game against Real Betis, Zinedine Zidane reiterated that his ideal attacking line up consists of the Wales international alongside Cristiano Ronaldo and Karim Benzema, but he has had to make do without a key component through important for parts of the season.
Ozil future does not depend on Wenger
Bale was out of action for three months after undergoing an operation on his ankle in November and has started just two of the five games he has played since – getting sent off in the 3-3 draw with Las Palmas, rendering him suspended for Sunday. He scored twice in those 253 minutes and overall he has nine in 21 games in all competitions, but he has been absent for the recent clashes with draw with Barcelona, loss to Sevilla and first-leg tie against Napoli in the Champions League.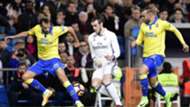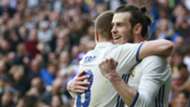 He has played more minutes than he had at this point last season, in which three injury spells kept him sidelined, but Madrid were not playing in the Copa del Rey and Club World Cup then and the demands on the first-team were not so intense. Still, he managed to end the season on 19 goals in 29 games.
But Bale only missed a few games in 2014-15, playing 4,038 minutes as Madrid won the Club World Cup and UEFA Super Cup, reached the Champions League semi-finals and finished two points behind Barcelona. With Carlo Ancelotti in the dugout the previous year, he had played 3,295 minutes by this point for the eventual Champions League and Copa del Rey winners, with the former Tottenham man getting 22 goals in 44 games.
'Man Utd made Mourinho more attacking
Madrid have watched a good lead at the top of La Liga slip in the months during Bale's absence. As they look to leapfrog Barcelona back into pole-position with a win at the Santiago Bernabeu, the pressure on Zidane's side is big and the calendar is becoming ever more intense.
The more Bale is out, the tougher it is to get the highly-regarded BBC partnership running at full speed. For a team locked in a battle for the league crown and looking to defend their European one, the €100 million winger has become a real cause for concern.