African All Stars
'Pride of Egypt, King of Africa!' - Twitter salutes Salah after winning 2017 African Player of the Year award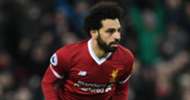 Mohamed Salah has been named the 2017 Caf African Player of the Year.
The 25-year-old saw off competition from Senegal international Sadio Mane and Gabon international Pierre-Emerick Aubameyang to clinch the individual accolade.
Salah was crowned for guiding the Pharaohs to the Fifa World Cup since 1990 and for maintaining an impressive 17 goals in 21 games in his first six months at Liverpool after completing a move from Roma in June.
In felicitating with the Liverpool talisman, football enthusiasts took to Twitter to pay tribute to the best player on the African continent.
Congrats to @LFC 's @22mosalah . Award well deserved! I strongly believe a Nigerian will be named Africa's best next year. Watch out #aiteoCAFawards2017 pic.twitter.com/j2rcD0tUVa

— Mutiu Adepoju (@MutiuAdepoju8) January 4, 2018
Never stop dreaming. Never stop believing - Mo Salah to children in Africa

— JJ. Omojuwa (@Omojuwa) January 4, 2018
Pride of Egypt Salah ❤️ pic.twitter.com/yfdOgUfb0h

— حسن الناقور#Nagoor18 (@hasanalnaqour) January 4, 2018
He is Egyptian, he is brilliant and mohamed his name.. momo momo salah la la la la 🎵💕🔝 https://t.co/t3Dy3oGMhd

— ELTOUNSY (@MoEltounsy97) January 4, 2018
Officially #Mohamed_Salah ❤
The best player in #Africa
Wish you more success, you deserve all the best 👏👏#caf_awards2017 pic.twitter.com/5N7AbYRopF

— Abdelzaher (@abdohsayyd) January 4, 2018
Mohamed Salah.. The king of Africa 👑💪💪

— Abdelrahman Elbass (@Elbass91) January 4, 2018
The Egyptian king Mohamed salah ♥️♥️🇪🇬

— رانا خالد (@Runakhaled81) January 4, 2018
🙌 Congratulations, Mo! 🙌@22mosalah has been named CAF African Player of the Year for 2017. 👏🔥 pic.twitter.com/j1i0DOUuH2

— Liverpool FC (@LFC) January 4, 2018
It took this long to announce Mohamed Salah as CAF African Player of the Year, something we knew since last year. Congratulations Mo, well done. #AiteoCAFawards2017

— Lolade Adewuyi (@Jololade) January 4, 2018
CONGRATULATIONS Mohamed Salah for Winning CAF African Footballer of the Year 2017. You deserve it! 👏🏿👏🏿👏🏿
#mosalah22 pic.twitter.com/eOLzn9avjQ

— Dr.Tarek khalil (@knozmasr) January 4, 2018