Paul Pogba
Pogba will get better for Man Utd - Ferdinand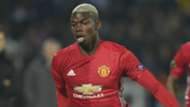 Paul Pogba has shown what he can do in spells at Manchester United and is making progress, Rio Ferdinand says, insisting the club must be patient with him.
Huge support for Barca vs PSG to be replayed
The 23-year-old has been criticised at times this season following his return to Old Trafford from Juventus for a world record fee.
While free signing Zlatan Ibrahimovic has proved decisive as the top scorer, Pogba has not lived up to the expectations in midfield.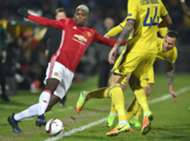 Former United player Ferdinand, though, points out it is unrealistic to expect the France midfielder to score huge amounts of goals and is sure his performances will pick up.
"Paul is being criticised but he's had an OK season at Old Trafford," the former England centre-back told The Sunday Times. "We've seen glimpses of what he can do. It's now about him putting it together consistently, over 90 minutes and a whole campaign. I'm certain that will come.
"Pogba is hammered for not defending and not scoring enough. United didn't buy him to be a defender or to score 30 goals a season. They bought him on his form for Juventus, where he had a loose, almost free role in a three-man midfield. United invested in a creative player, somebody to come in, make chances and be the dictator of the team.
"I'm confident he will get there. The team around him is still coming together. I see a progression. They're playing football their supporters want to see, but Jose Mourinho knows there's some shuffling of the pack and investing to be done, players to get out and others to bring in. Only after the next transfer window can we say this is a Mourinho squad."
'Bayern tracking Arsenal's Xhaka'
Jose Mourinho's side currently sit sixth in the Premier League but have a game in hand over Liverpool, who sit three points ahead in the final Champions League spot. They are also competing in the Europa League last-16 and face Chelsea in the FA Cup quarter-final on Monday.
But in order to progress further and win titles, Ferdinand says, United must overcome their reliance on Ibrahimovic, who has 26 goals in all competitions with next highest scorer Juan Mata on nine.
"[Mourinho] needs somebody other than Zlatan Ibrahimovic to decide matches," he said. "I'd love to see Antoine Griezmann at Old Trafford. For four years running he's scored 20-plus goals for Atletico Madrid in Spain and has genuine class and ability."