France
Pogba the showman wants to be next Zidane or Platini - Ferdinand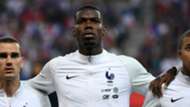 Manchester United midfielder Paul Pogba is a "showman" looking for a World Cup stage to put him on a par with Zinedine Zidane and Michel Platini, says Rio Ferdinand.
The France international has not always delivered on his potential, both for club and country, but he will have a global window in which to showcase his talent this summer.
Much is expected of Pogba in Russia, with Didier Deschamps having already demanded more from the 25-year-old and Bleus skipper Hugo Lloris calling on him to become a "leader".
Ferdinand believes a man he once played alongside at Old Trafford is capable of delivering, with there a desire on the part of an £89 million performer to prove himself as a modern-day icon.
The ex-United and England defender said in the Mirror: "Paul is desperate to ­announce ­himself on the world stage.
"Paul is someone who wants to be known as a great player. When you look at the history in the French national team – with Michel Platini and Zinedine Zidane – he wants to be ­remembered as a player like that.
"But Pogba has to play well. And he has to win – and that's not easy. There will be ­pressure because expectations are huge on France.
"Pogba and [Antoine] Griezmann will be carrying the hopes of their ­nation on their shoulders – and I would like to see Paul do it.
"He's a showman and someone who wants to be the ­centrepiece of what comes out of that team. Now he has the opportunity to do that."
Ferdinand added on a player who saw his antics on and off the field thrust under the microscope throughout a testing 2017-18 campaign: "There is no ­doubting Paul's ­talent. Anyone who sees him play would be a fool not to see he has immense talent in all areas.
"But it's about putting that ­together week in, week out – and, in a tournament, it's very difficult. Sometimes you have to be angry – ­certain players need that fire in them.
"Paul is one of those guys. If he is angry and hyped for a game and lets that filter out when on the pitch, you see a better Paul Pogba."
Pogba was whistled by his own supporters on his last outing, as France beat Italy 3-1 in a pre-World Cup friendly.
He may get another opportunity to silence his critics and rediscover his spark against the U.S. national team on Saturday as Les Bleus take in their last fixture before heading to Russia.