United States v Serbia
Plenty riding on U.S. team's first match of 2017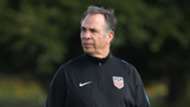 SAN DIEGO — January friendlies are, by nature, usually pretty meaningless in the U.S. national team's big picture, but Sunday's friendly against Serbia has a considerable amount of value.
The first match of 2017 is a tone-setter for a new coaching era, as Bruce Arena prepares to begin his second stint as U.S. coach. The match is also one of two friendlies Arena will make full use of as he prepares for crucial World Cup qualifiers against Honduras and Panama, which means everything from trying out the formation he will likely use in March to evaluating some of the personnel.
For that reason, Arena sees the Serbia friendly, and next week's friendly against Jamaica in Chattanooga, Tennessee, as more important than your typical winter friendlies.
"I expect a bunch of good individual performances, and if we have that we should be able to be successful in the game (on Sunday)," Arena said. "We need to answer some questions we have with our roster. When these two games are completed, I need to evaluate — and we obviously have to date as well — our pool abroad. We have to merge our domestic players with our players overseas and come up with the best roster we think we can piece together to be successful in March.
"These games are very important," Arena said. "We're thin in some areas. I need these games to answer a couple of questions, and hopefully that allows us to move forward and develop the right kind of roster to be successful in March."
Arena's first match in charge since replacing Jurgen Klinsmann should offer a good idea of what he has planned for the March qualifiers, a pair of matches made even more important by the losses suffered against Mexico and Costa Rica last November. The camp for those matches will Arena's first time working with several of his European-based players, and the short turnaround time before the qualifier against Honduras has made it even more important for Arena to start implementing a system now, in January.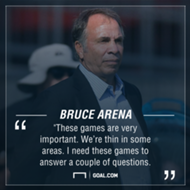 "I think what you see in these next two games is what you'll see in March," Arena said when asked about the formation he will use in the upcoming friendlies, which should be a 4-3-3 system.
"We're going to have players show up where we're going to have four days to prepare them for our game against Honduras, and there's a number of them that have never worked with me before," Arena said. "It's important that, between now and then, we maintain contact and communication and get a good feel for each other so we're not starting from scratch on March 20th when they report to our camp."
The friendly against Serbia should go a long way toward determining if the January camp has helped yield some fresh options for Arena at fullback, where the national team struggled for consistent options under Klinsmann. Greg Garza enjoyed the strongest camp of the handful of left backs brought in, while Graham Zusi has done well in his transition to right back and should get a starting nod on Sunday.
"Our biggest question marks in this camp, and as we move forward, is to try and address our thin-ness in the outside back positions," Arena said. "We know DeAndre Yedlin has played at right back, as has Timmy Chandler. Timmy Chandler's suspended for the game against Honduras. What would we do if DeAndre Yedlin is hurt, so we've got to answer some of those questions."
Center back remains another position where the U.S. has a pool in flux, and the current January camp has helped solidify Steve Birnbaum's place as a top option. With Geoff Cameron's status still a question mark — he has been out of action since October with a knee injury — Birnbaum could figure into the competition to start in Cameron's regular role, along with other candidates such as Omar Gonzalez and Matt Hedges.
The Serbia friendly should help answer some questions about options for Arena to utilize in March, though no matter how the U.S. looks on Sunday, Arena still remains confident that the U.S. team will shake off the bad taste of last November's qualifying losses to rebound and secure a place in its seventh straight World Cup.
"It's not going to be easy, but we have a good pool of players in MLS and there's no reason to believe that combining them with our other players abroad we can't piece together a team and qualify for the next World Cup," Arena said.