FA Cup
Faris hoping to be one of the four against Perak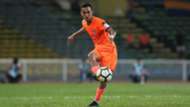 In the 28-year history of the Malaysia FA Cup, only one time has the trophy ever left Malaysian shores when Lions XII won it in 2015. The Singaporean side completely dominated the final at Bukit Jalil National Stadium to earned a deserved 3-1 win over Kelantan.
Three years on, one winner from that Lions team is still hoping to repeat the same feat with a new team. Faris Ramli has returned to Malaysian football after a two year absence, coincidentally straight after the season that his Lions team won the FA Cup.
When Malaysian Football League (MFL) opened up an additional import slot for Southeast Asia, Faris jumped at the opportunity and was eventually snapped up by PKNS FC. Slotting in seamlessly, Faris has been a key player and constant starter in K. Rajagopal's team.
"It will be a tough match because Perak are a strong team and they are always improving. The 2-0 win we had over them in the league will have no bearing on this match. I'm sure that Datuk Rajagopal is ready with his plans as he's someone who is known to have a couple of formations in his pocket."
"Whatever the formation, I hope that I'm still in the list because I don't want to miss even one match with PKNS this season. I've played twice previously in this competition because Zac was injured but now he's back and it's u to the coach to decide on who to choose," said Faris in a Berita Harian report.
The regulations states that a Super League team can only field four import players in the cup competitions, the FA Cup and the Malaysia Cup. Rajagopal will have to decide who from Zac Anderson, Rafael Ramazotti, Faris Ramli, Jonathan Acosta and Romel Morales to leave out against the Bos Gaurus.
The PKNS versus Perak match will be held at Shah Alam Stadium on Saturday April 7 with the return leg on April 21.