Barcelona
Pique won't make Puyol mistake by setting Barcelona end date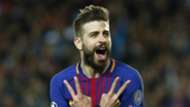 Gerard Pique is reluctant to speculate on how long he has left at Barcelona, with Carles Puyol having been made to look foolish when doing likewise in the recent past.
An iconic presence at Camp Nou has just passed the 10-year mark in Catalunya, with a decade of loyal service taken in since returning to his roots from Manchester United.
Pique was snapped up by Barca in 2008, with a former La Masia academy product re-signed after proving his worth in England.
Few could have predicted the impact he would make back in familiar surroundings, with the 31-year-old now a World Cup winner whose CV also includes multiple La Liga titles and Champions League crowns.
Pique remains a reliable presence in Ernesto Valverde's side and is tied to a contract through to 2022, but he is wary of following the lead of former team-mate Puyol by setting an end date for his playing days.
He told Barcelona's official YouTube channel: "You have to make sacrifices here at Barca, especially playing at the back because of the way we play, sometimes you get the blame.
"You know the competition is always there, the best players in the world and you have to fight for your place.
"It's 10 years now so each new year is another to enjoy. I am not going to be like Puyol and say I'm going to be here for another 10 years until I'm 40; the next year he had to retire!
"I'll enjoy each year as it comes and when it's time, it's time."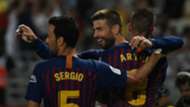 Having starred for Barca on the field down the years, Pique has been billed as a potential club president of the future.
That is a position which may appeal at some stage, with the long-serving centre-half having already exceeded all expectations at Camp Nou.
He added on a remarkable era of success: "Looking back, really positive. I could not have hoped to win what I have, to have played so much, to have been important. I have really enjoyed it, just like the others.
"I feel really lucky and am really enjoying being here.
"There will come a day when I have to raise up my hand and leave but until that day comes, I'll continue enjoying it as much as I can."