FA Cup
Perak deny media interviews after defeat to Kedah in the FA Cup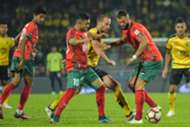 ---
 BY       OOI KIN FAI      Follow on Twitter
---
Following Perak's 0-2 home defeat to Kedah in the third round of the 2017 FA Cup on Saturday , emotions were understandably running high in the home camp.
As per usual, I proceeded to the mixed zone looking for post-match reactions from Perak and Kedah players. While Kedah afforded me some time with Ken Ilso, the same couldn't be said of the Bos Gaurus.
The Perak media official referred me to the team manager, Datuk Jamal Aris who proceeded to flatly refuse my request to speak to any of his players. When asked for the reason behind the sudden restriction, he simply responded - "the players are very down after the defeat".
Again, a perfectly understandable response but such is football, teams will win matches and teams will draw or lose matches. Big teams lose big games and still provided players for media duties after matches. Which was the feedback I provided to Jamal to which he seemed to take offence to.
And thus began threats from his part that should I should not argue with him and if I don't stop, I will be "kicked" out from the stadium. Here I was, thinking why I'm being threatened for trying to perform my journalistic duties. Or maybe I was the only journalist at the mixed zone, that made me an easy target to vent frustration.
Jamal had earlier been seen banging the side part of the home bench after getting angered by the decision made by the match officials during the hotly contested affair between both teams. He was also overheard to have asked the stadium officials whether the match officials have left the premises, just minutes before our encounter. The purpose of which is not for me to speculate.
It is well within his prerogative to deny any media to speak to his players as it is my prerogative to ask the questions why. To be threatened with expulsion from the ground for doing so, leaves a bad taste in the mouth.
Football in this country keeps wanting to push through barriers and become better but at the moment, many aspects can still be improved.