Pulau Pinang
Penang's poor start does not augur well for their season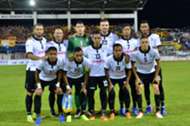 ---
 BY       OOI KIN FAI      Follow on Twitter
---
After six rounds of matches, the Super League table for 2017 is starting to take shape. Kedah, Pahang, Selangor and Perak are on double figures with Johor Darul Ta'zim (JDT) creeping up behind, having played a match less than the aforementioned four teams. A look down the table does not make for good reading for Penang fans.
With zero points earned after 540 minutes of football played, Penang are stuck at the bottom of the league following their latest defeat to Kedah at the weekend. Six matches played, zero wins, zero draw and six defeats in straight succession - Penang have the worst record of any teams in the last five seasons of the Super League after six matches played.
There are no teams in the history of the competition from 2012 to 2016 that has no points collected after half a dozen of matches played. Head coach Ashley Westwood is under tremendous pressure to turn the ship around and has already come out before that defeat to Kedah, to try and appease the fans.
In the last three seasons of the Super League, from 2014 to 2016 - the three teams that recorded the lowest tally of points at this period of the season were Sime Darby FC (2014 & 2015) and Pahang (2016). At this stage of the season, Sime Darby managed three points in 2014 and only one point in 2015 while Pahang also had only the one point in 2016.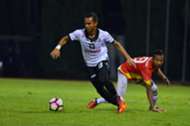 If Penang are to clutch at straws, they could see that while the points tally isn't great, only Sime Darby in 2015 suffered relegation come the end of the season. However, futher inspection would suggest that Pahang would have also gone down in 2016, had it not been for a win that went in the favour following retrospective disciplinary action by Football Association of Malaysia (FAM).
Taking the 2016 as an indication, Terengganu amassed nine points after six matches and still went down to the Premier League as they only collected another 10 points in the subsequent 16 matches. So not all hope is lost yet for the Panthers.
If Penang are to lose their next match against Melaka United on Wednesday, they would equal Sime Darby's run of seven consecutive defeats in 2015. However, it is still a long way to go to match the worst run in the last five seasons - which was Kuala Lumpur back in 2012 when they suffered 10 straight losses.
Westwood is someone who prides himself as the coach of the team with the best fitness and that is not something that can be achieved overnight. Penang's continued improving fitness level could see them bettering other teams as the season progresses.
Like any team who are stuck in a downward spiral, Penang and Westwood need something to go for them, soon. Should they get their first or even three points on Wednesday, it could spark their season into life.
At the moment though, the signs and history are not on the side of Penang.