Parma
Parma; A phoenix that has risen from the ashes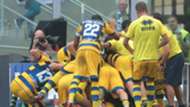 Like a phoenix that has risen from the ashes. These are the exact words to describe Parma as they earned their first top-flight win of the season by beating Inter 1-0.
From the moment the match started, it was apparent that the Gialloblù weren't going to stick to the script as they had ideas of their own. What was supposed to be a routine win for Inter; who are Scudetto favourites after heavy investments over the summer, wasn't going to happen as their opponents put on a defensive and tactical masterclass.
Now for a club who went bankrupt and were relegated to Serie D in 2015, you would expect Parma to be fighting for relegation this season, but instead their performances have proved otherwise. Before their win over the Nerazzurri, Parma put on a brave display against Juventus only to be defeated by a moment of individual brilliance from the Turin giants.
Guided by charismatic coach Roberto D'Aversa, Parma has gone from strength to strength and is experiencing a fairy tale return to Serie A. This was encapsulated when ironically Inter loanee Federico Dimarco hit a wonder strike to seal all three points at the San Siro. It gave promoted Parma their first league win this season, and first victory at the San Siro since May 1999. Also it is worth noting that only such a thing could happen to a club like Inter.
But all in all credit must be given to Parma for their swift ascent. They converted their bankruptcy to brilliance on the pitch. Their story gives inspiration to other clubs that they can pull themselves out of any mess if they have the right values and people. Parma represents a dying institution which is what football should be all about. And for that we must toast to their presence in the league.
It is after all a club that had many great players once donned its jersey while achieving success. Those players are now gone but don't be surprised if the current batch rewrites another glorious chapter in their history, because at the moment that is what they are doing.