Boca Juniors
Out of touch and over the hill - how Boca's prodigal son Tevez has failed to impress on his return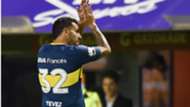 It was not supposed to be this way. On Sunday Boca Juniors took a giant leap towards claiming Argentina's Superliga title, downing Union 2-0 to open up a clear lead at the summit. But their prodigal son, the man brought back from voluntary exile to make 2018 an unforgettable year, was conspicuous by his absence.
Carlos Tevez played no part in the Xeneize victory. The forward had been a marginal presence in the 58 minutes he spent on the Bombonera pitch, cutting a forlorn, frustrated figure. His withdrawal for 19-year-old Gonzalo Maroni was greeted with applause from the vociferous home stands: an ovation that simultaneously denoted recognition of his service for the club and relief at his exit.
The 34-year-old suffered the last half hour from the bench as Ramon Abila's double gave his side victory. It was a situation that summed up his quandary, as a star on track to win his second consecutive title with the Argentine giants but no longer as their star and talisman on the field.
Some might say that Tevez's alarming drop in form – he has netted just four times in 14 outings in 2018, and once in Boca's last eight matches – is karmic justice after he took Shanghai Shenhua for the most expensive ride in football history . A more logical explanation is that, at 34 and having spent the best part of a year out of the game in China, his once-formidable powers are on the wane.
Cristian Pavon, not the ex-Juventus star, is the player who has driven the Xeneize forward in 2018 with a level of form that has put the youngster in contention for a World Cup place. Another of Tevez's old Boca team-mates, Ricky Centurion, was passed over by Boca in January and has wasted no time in showing the error of that call by starring for Racing in La Academia's wonderful start to the year. Carlitos, meanwhile, has mostly made the headlines for the wrong reasons.
He began his third spell at Boca by openly mocking his former Chinese employers. "When I landed in China I realised I wanted to come back to Boca, I was on vacation for seven months," he stated back in January, words that saw him labelled as "scum" and a "rat" by Shenhua fans on Weibo.
In March, after another indifferent display in Boca's Supercopa loss to arch-enemies River Plate, Tevez once again showed that the venom that has disappeared from his game remains present on his tongue. "I can't remember a single chance of theirs," he fired, a curious statement following a 2-0 defeat for his men that left deep scars at the Bombonera.
Just two weeks later, the forward was laid up with a muscle injury in bizarre circumstances away from the training pitch. He claimed his right calf was hurt in the gym, while several sources maintained it was sustained during an impromptu kickabout in a prison while Tevez visited his brother Beto, incarcerated since 2010 for robbing an armoured truck. The report was emphatically denied by the player, but it was a further sign that all is not well since his much-heralded return to Argentina.
His indifferent form has gone somewhat unnoticed in the Superliga. Boca have sat at the top of the pile in Argentina for more than 500 days, helped by the inability of any challenger to match their consistency. The Buenos Aires side have dropped 13 points in their 13 league fixtures during 2018, having yielded just six prior to the Christmas break, but the likes of Talleres and San Lorenzo failed to sustain their own title fight, while nearest rival Godoy Cruz left their final charge a little too late. A single point away to lowly Gimnasia on Wednesday would guarantee a second straight crown with a game to spare.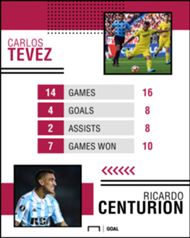 In the Copa Libertadores, the prize Tevez and everyone associated with Boca desperately wants, however, it is a different story. Boca languish third in their group going into the last game with their fate out of their hands, with the veteran contributing one measly goal to their anaemic campaign. A group stage exit would be a catastrophe, and perhaps hasten yet another farewell for Carlitos.
There is still time for Boca and Tevez to turn around their Libertadores fortunes. But with a team that looks painfully disjointed at times their chances of regaining the trophy last lifted in 2007 look remote, and if Pavon leaves after the World Cup - "he may be playing his final games", agent Fernando Hidalgo said recently, as elite teams such as Arsenal, Milan and Paris Saint-Germain follow his exploits with interest – those odds will lengthen significantly when the last 16 kicks off in August.
Tevez has shown thus far that he has neither the attitude nor the energy to carry the Xeneize in the manner he could prior to his Chinese "vacation". At 34 his talents are waning, and only the bravest of observers would bet on this final Boca spell enjoying a fairytale ending.