Ghana
Odemwingie reveals Essien's role in his move to Indonesia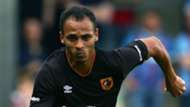 Former Nigeria striker Peter Osaze Odemwingie has revealed that former Chelsea and Ghana midfielder Michael Essien convinced him to sign for Madura United in Indonesia.
Essien joined the Indonesian giants Persib Bandung in a one-year contract last month with option for an extension.
"I had no plans to join any team in Europe. To be honest before I came here, I heard Michael Essien had been here first," Odemwingie was quoted as saying by Daily Post.
"I then communicated via messages with him when he was in London.
"And Essien told me he was impressed with the charm of Indonesia. He said Indonesian people are very friendly and he was eager to return. So yes, that's the story, he convinced me to come here."
Odemwingie just like Essien, played in the English Premier League between 2013 and 2016 with West Bromwich Albion, Cardiff City and Stoke City. He last played for Championship side Rotherham United before leaving in January.
Odemwingie boasts of 65 appearances with Nigeria including ten goals.