KPL
NSL side intensifies training with Yoga program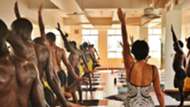 National Super League side Wazito FC have pulled another first!
This time round, it is in training method, being the first club in Kenya to introduce Yoga classes for general mental and physical fitness of players.
Gor Mahia suspend keeper trainer
On Monday, the Nairobi-based club spent 90 minutes at the city's Bikram Yoga premise for a session of  26 postures, and two breathing exercises under 38 degrees heat and 40 per cent of humidity with instructions from Yoga expert Hilaria, who termed the exercise important for players.
"For what they do, they need to sprint, be fast and the training helps to tone the muscles, then lengthens them," she was quoted by the club's official website.  
Formey Gor Mahia coach, who is the club's manager Frank Ouna, asserted that his team will have the sessions regularly throughout the season in order to boost their performance on the pitch.
BREAKING: DStv Super Cup postponed
"Yoga assists in recovery, it helps remove toxins in the body because a lot of buildup of sour muscles, release stress, helps recover physical and mentally. Over time, it has other advantages like fitter muscles, longer muscles. We intend on having this throughout the season. There are weeks we will not have them, depending on the number of games played per week. Some weeks we may even have two sessions."
Wazito FC finished at position 11 in their debut season at the country's second tier league.