Premier League
Normalization Committee would have been better with an ex-footballer - Akonnor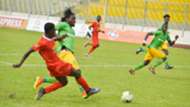 Former Ghana captain Charles 'CK' Akonnor reckons retired footballers would have been happier with a representative on Ghana's Normalization Committee for Football. 
Fifa, on Thursday, announced members of the set-up, which has been tasked to manage the sport in the country in the absence of a functional football association following a corruption scandal in June. 
Ghana's Local Organization Committee chairman for hosting of the 2008 Africa Cup of Nations, Kofi Amoah, leads the unit, which also includes Lucy Quist, lawyer Dua Adonten and Naa Odofoley Nortey.
"We would have been happy to see an ex-footballer in that committee," Akonnor told Zylofon Sports. 
"We have knowledgeable people and if they were in there, it would have helped a lot.
"We have Abedi [Ayew] Pele, Tony Baffoe, Sammy Kufuor, Augustine Arhinful and we would have been delighted to see any of them there so that in terms of decision affecting footballers, they would be there to help."
Akonnor, nonetheless, believes the four-member team is capable of doing a good job. 
"They [committee members] know what they are doing and we pray Ghana football comes back soon," said, the former Wolfsburg skipper.
"I think the people on the committee are people with integrity, so they will work and provide reforms that will be without complications. 
"I believe they understand the current situation and will provide us with the way forward.
"I understand there will be room for further additions, I hope they include an ex-footballer in the commitee."
Ghana has been without a functional FA since an investigative documentary exposed corrupt and match-fixing activities of top officials and referees, leading to the resignation of president Kwesi Nyantakyi and the dissolution of the Executive Committee.
According to Fifa, the Normalization Committee is to "run the GFA's daily affairs and cooperating with the special task force, review the GFA statutes to ensure compliance with the requirements of Fifa and Caf, particularly art. 15 of the FIFA Statutes" and "organize and conduct elections of a GFA executive committee on the basis of the revised GFA statutes once the GFA statutes meet the requirements of Fifa and Caf".