Transfers
Nkosi: Castro would be a great signing for Kaizer Chiefs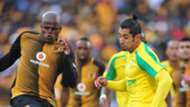 Former Kaizer Chiefs midfielder Siyabonga Nkosi says the signing of Mamelodi Sundowns's Leonardo Castro would be nothing but a welcome addition to the Soweto giants.
"He would be a great addition to the team, definitely. He is a quality striker. They lack the qualities of an out-and-out striker upfront," Nkosi told Goal.
The threat of Gustavo Paez appears to be the man they have relied on for goals, with Nkosi praising his impact.
"Obviously, Paez has provided a lot of impetus for them but I feel that he is a type of striker (that is better) playing alongside someone.
"He has worked better playing alongside (Bernard) Parker of all the players he has been played alongside at Kaizer Chiefs," Nkosi said.
To bring Castro into the fray, will see a whole new attacking entity, one with variations that could transcend the team into firing on all cylinders in attack.
"If you bring in a Castro into the mix, it could give them options up-front that they can wriggle around with. He is a goal-scorer as well, and it's good to see Paez has been capable of scoring," Nkosi said.
The goal-shy attack has not pleased their former player, slamming the midfielders and wingers for not doing their utmost to remedy the situation.
"As a team, you need more players to score goals, not just the strikers but midfielders as well as the wingers.
"That's been their problem as well. Midfielders are not providing goals. Wingers are not providing goals, and the strikers are not providing goals. How are you going to compete then?" Nkosi argued.