Nigeria
Nigeria Women Premier League 2017/18 season set to kick off on April 7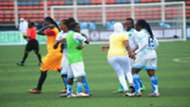 The Nigeria Women Football League has announced that the Nigeria Women Premier League will kick off its 2017/2018 season on April 7, 2018.
The season calendar for Nigeria's women topflight was drawn on Saturday, March 3 at the Watercress Hotel, Lagos following the ratified promotion of three teams - Taraba Queens, Sure Babes and Jokodolu Babes from the second-tier Women Pro League.
The chairperson, Aisha Falode announced the commencement date and the resolved to maintain its abridge format of two groups with eight-team each this season due to the summer World Cup tournaments in Russia and France respectively later this year.
Four-time winners Rivers Angels alongside Confluence Queens, Edo Queens, Sure Babes FC, Delta Queens, Taraba Queens, Bayelsa Queens and Ibom Angels were drawn in group A.
While Group B was composed of reigning champions Nasarawa Amazons, Adamawa Queens, Abia Angels, FC Robo, Jokodolu Babes, Sunshine Queens, Osun Babes FC and Pelican Stars.
Among decisions reached, the congress ratified players transfer will be pegged at two hundred thousand for elite division and one hundred thousand for pro league to curb crisis-ridden players' contract.
It also agreed that the deadline for the payment of registration fee is March 19, 2018 and collection of licenses to end on or before 30 March, 2018.
Champions Nasarawa United will commence their title defence at the Lafia City Stadium against FC Robo as star opening match, while other fixtures will hold simultaneously on Wednesday, April 11.