Young Africans
Ngoma ready to fight for Yanga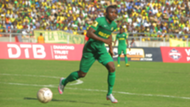 Yanga striker, Zimbabwean Donald Ngoma has revealed that he is ready to fight for his team in all the coming matches after recovering from his long-term injuries.
It has been reported that Ngoma will join his fellow players in training ahead of the Federation cup tie with Singida United on April 1. 
Speaking to Goal, Ngoma said that he is feeling better and is keen to help his team in the coming matches both domestically and internationally.
"We have a lot of important matches ahead, I am glad to return to action and I am ready to fight for my team," said Ngoma.
Ngoma has been sidelined since September last year after sustaining a back injury. He has featured in only four Ligi Kuu games this seaon, scoring just two goals.