Barcelona
Neymar shows off his new lime green boots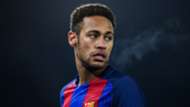 It turns out you don't have to score 250 goals to be rewarded with a new pair of boots.
Xhaka leads PL flops of the week
Nike commemorated Wayne Rooney reaching that landmark for Manchester United with a special 'WR250' version of their Hypervenom but it turns out Neymar is also upgrading his footwear.
The Barcelona star showed off the lime green boots in an Instagram post prior to training as he prepares to face Real Sociedad in Thursday's Copa del Rey quarter-final second leg.
A photo posted by Nj neymarjr (@neymarjr) on Jan 23, 2017 at 3:08am PST
The boots feature the words 'Alegria' and 'Ousadia', which translate to 'joy' and 'daring', terms that are also tattooed on the Brazil star's calf and represent his attitude towards football.
And he'll be hoping the boots help maintain his impressive recent run of form, with Neymar having scored in each of his last three appearances for the Catalan club.