Bayern München
Neuer returns to Bundesliga action after almost a year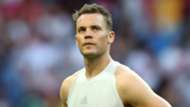 Manuel Neuer has made his long-awaited return to the fold in the Bundesliga starting for Bayern Munich against Hoffenheim after missing 11 months of club football through injury.
The German goalkeeper sustained a fractured foot last September and consequently missed the remainder of Bayern's 2017-18 campaign, which ended with a sixth consecutive league title.
However, Neuer did return to full fitness just before the World Cup in Russia this summer, where Joachim Low's side was aiming to defend the trophy they won four years earlier.
Things didn't go at all to plan for Germany during the tournament as they succumbed to an early group stage exit, losing against Mexico and South Korea either side of a win against Sweden.
The 32-year-old shot-stopper is widely considered to be one of the best in the business, but he did not cover himself in glory over the course of the three games, most notably gifting South Korea their match-clinching strike in a 2-0 win after leaving his goal completely exposed by roving up the pitch in pursuit of a late equaliser.
The new season marks an opportunity for Neuer to put that disappointment behind him and focus on club duty, under the stewardship of new Bayern boss Nico Kovac.
The Croatian coach replaced the outgoing Jupp Heynckes in May and has been tasked with not only maintaining the club's success on the domestic front but also restoring former glory in the Champions League.
When asked about the long-awaited return of the team's number one keeper, Kovac told reporters: "Manu's a leader and not only of Bayern, he's also the captain of the national team. He's someone who the opposition respect simply because of his presence, so I'm very happy that he'll be back tomorrow."
He went on to express his excitement ahead of kicking off the new campaign, but also warned that defending the title once again come May will not be a formality, stating: "To speak about it is one thing. Actually doing it is quite another. You can have big dreams but are they feasible?
"That's the most important thing. We're glad it's finally starting now. Seven weeks of pre-season was a long time, but we're fit now and in a good mood."