Kariobangi Sharks
Negligent FKF under attack for violating minor ball boys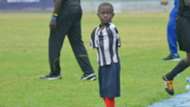 Football Kenya Federation (FKF) has come under intense criticism after a picture of minors being rained on during the GOtv Shield surfaced online.
The kids, who were used as ball boys during GOtv Shield final at Kasarani, were pictured on the touchline, shivering in the cold weather while protecting themselves using their already soaked clothes.
Opinion is now divided after a section of Kenyans came out to condemn the 'insensitive' Federation after a photographer shared the pictures online. GOtv Shield is run by FKF.
But while the federation is yet to come out and explain why they did not properly kit the young boys, a section of Kenyans have since jumped in to give helping hand.
Former Kenyan striker Boniface Ambani has promised to purchase a raincoat to one of the kid pictured covering himself with a wet jersey on a wet track as he runs to retrieve the ball.
"Am offering this young boy a raincoat. Anyone who knows where I can get the boy, contact me, please. I know they were several but I picked this young boy. He will never get drenched again,' said Ambani.
This is not the first time that cases of poor kitting for both players and the ball boys have come under scrutinity. 
A picture of Tusker FC veteran Stephen Owusu being pounded on by the rains while warming up ahead of their match against Nzoia Sugar also surfaced online.
During the GOtv Shield final, both Kariobangi Sharks and AFC Leopards players on the bench were subjected to the same treatment after both clubs and tthe league cup organisers' failed to provide them with protective gears.