Manchester United
'My sons asked me to play in England, but this time I'm the boss' - Zlatan on Man Utd renewal
Zlatan Ibrahimovic has revealed that it was his two sons who persuaded him to test himself in the Premier League, but warns that he'll be the one deciding whether to stay at Manchester United next season.
WATCH: Did Zlatan have a dig at Arsenal?
The Swede took his total to 26 goals this term with a match-winning brace in Sunday's EFL Cup final against Southampton and, while manager Jose Mourinho insisted he will not beg Ibrahimovic to stay on for a second campaign in 2017-18, he did invite fans to "go to the door of his house and stay there all night and ask him to stay".
And the 35-year-old striker says that, while his sons Maxi and Vincent talked him into playing in the Premier League, he has yet to make his mind up whether at Old Trafford.
"My two kids wanted to see me play in England," he told reporters. "I had my mind somewhere else, but then Jose called, we have a special relationship, and it was basically 'Just tell me what number I should wear!'
WATCH: United's EFL Cup celebrations
"The kids are satisfied with what I'm doing but this time I'm the boss!
"Let's see what happens. We have another few months, I'm enjoying it and according to many I could not do what I'm doing."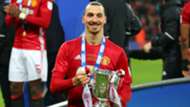 The former Inter, Barcelona and Paris Saint-Germain front man insists that qualification for the Champions League will not be a deciding factor despite many claiming he will not be happy if he ends his career without one last shot at the trophy.
"It's not about that. I came here without the Champions League, so it's nothing to do with the Champions League," he added. "Somebody writes the story that without the Champions League I will extend but it's nothing to do with that.
Man Utd fans sure Griezmann will join
"But I'm never satisfied, I want always more, I am hungry to do more, that is always my mentality. This is my 32nd trophy, this is my fifth different country, I have been in the best clubs in the world, and I am repeating every year what I am doing."
His goals record is not the only contributory factor to the rave reviews this season, with his excellent shape helping people to call for him to stay. Yet he insists that he will never look to outstay his welcome in the game by living off his well-earned reputation.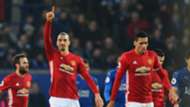 "I feel like a lion. I feel in shape, I feel good. I train very hard, I have an objective every season and I feel I am going to reach that. I need to train hard, I need to suffer when I train, that's how I achieve my goals. I am from the old school, where they work hard and they get what they get from doing the hard work.
"But I will not play one game by being Ibrahimovic from what I did before. If I don't perform, if I don't bring the results, I go, because I will not be like other players playing because they had a great career and because they are who they are."
Angry Liverpool fans bite back at Smalling
Ibrahimovic has now won major trophies in every season since 2001, adding the EFL Cup to the season-opening Community Shield crown which was also secured with a late winner by the big striker.
And, when asked what he does with his 32 winners' medals, he answered in his own inimitable style.
"They're in the museum… I have a house only for the medals!"