Tanzania
Tanzania Player Ratings vs Algeria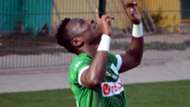 Algeria's Baghad Bounedjah scored twice to give his side a deservedly 4-1 victory against Tanzania in their friendly match.
The game was used as preparation for both sides ahead of their 2019 AFCON qualifiers.
Shomari Kapombe's own goal and a Carl Medjan strike gave the home side a big victory while Simon Msuva pulled a goal back for Tanzania.
Here is how Goal rated Tanzania players from the encounter.
Abdulrahman Mohamed
Was his first game for Taifa Stars and it was a mixed performance. Nothing he could do for Algeria's three goals but he did not cover himself well for the second goal. 4
Shomari Kapombe
Headed in his own net for the second goal. A number of poor clearances. Made poor deliveries too, and struggled against Sofiane Hanni and Riyad Mahrez who often seemed to switch the flanks.3
Abdi Banda
It was not a good day for the defensive line. The Republic of South Africa's Baroka FC central defender was sloppy in possession at times and unable to deal with the skillful Algerian attackers. 4
Kelvin Yondani
A smart interception stopped Algeria's first counter of note but still yet to fully put shaky displays behind him. 4
Gadiel Michael
He had a big task to deal with Riyad Mahrez something which he did not manage. His deliveries were not up to their usual high standards. 4
Himid Mao
His first game since his return from injury. He had more defensive work than usual with Mudathir Yahaya beside him. Tried to rally his team-mates to be more urgent. 4
Mudathir Yahaya
He had a bright start but faded as the game went on. Had one good through ball to Mbwana Samatta but his shot proved not enough. 4
Said Ndemla
He had a quiet game in his 63 minutes on the field. Eager to justify his start and buzzed around but influence faded. 3
Shiza Kichuya
He was the liveliest Tanzania player on the pitch. He assisted for Tanzania's only goal scored by Simon Msuva. Had a chance to score for himself in the second half but unfortunately his initial shot hit the side post and he followed the rebound which well saved by the goalkeeper. 5
Mbwana Samatta
He was trying to make things happen but it was not easy to pass through Algeria's organized defensive line. He had a clear chance in the first half but he wasted it. 4
Simon Msuva
The Tanzania goal scorer. His supposed weakness, his hold-up play, is becoming a strength and Tanzania's best openings came through him. 6