Manchester United
Moyes v Mourinho: How do the two managers compare at Manchester United?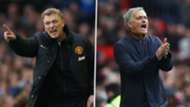 Manchester United need just one point to secure second place in the Premier League this season, and as they head to West Ham on Thursday they find a familiar foe standing in their way.
The clash at the London Stadium falls one day after the fifth anniversary of David Moyes' appointment as United manager, and his West Ham side this week confirmed their place in the top flight next term with a 2-0 win at Leicester City.
But United are coming off an exasperatingly poor display at Brighton on Friday which resulted in a 1-0 loss. The reverse at the Amex was the Red Devils' 12th league defeat in Jose Mourinho's two-year tenure, a statistic which looks remarkable when set alongside Moyes' record of 11 losses in 34 Premier League games in charge of United between 2013 and 2014.
United lost a woeful 32.4 per cent of league fixtures during Moyes' curtailed spell at Old Trafford, whereas Mourinho has been on the losing side in 16.2% of his games as United manager.
The stats don't get any prettier for the Scot as you dig deeper into his record in the job. Although his Premier League goals-per-game tally of 1.65 compares with Mourinho's 1.64, he falls behind in almost every other regard.
In his 51 games in charge across all competitions, United won 27 and lost 15. Mourinho, meanwhile, took just 42 matches to reach the same number of victories and only fell to his 15th defeat in the Carabao Cup at Bristol City in December – his 92nd game in charge, and a full 41 fixtures more than Moyes presided over.
United, of course, have been far more successful in cup competitions under their current boss too, winning the EFL Cup and Europa League in his first campaign in charge and leading the side to next week's FA Cup final too. Like Moyes, he started his United career by clinching a Community Shield win but that is about as far as it goes in terms of comparisons when it comes to silverware.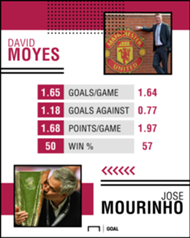 But when Mourinho takes his side to east London on Thursday, he will have five of Moyes' most faithful troops among his possible selections. In Moyes' 51-game tenure he used David de Gea 48 times, while Antonio Valencia, Michael Carrick, Chris Smalling and Phil Jones were also regulars in the former Everton and Sunderland boss' nightmare spell.
Since being led by Mourinho, most of them have remained regulars but have been far more effective for the most part. They have been part of a side which has racked up 205 goals in all competitions in 117 matches under the ex-Chelsea manager, conceding only 85 goals in the process. In an average match under Mourinho, United have scored 1.03 goals per game more than their opposition, while Moyes had a comparative tally of 0.63.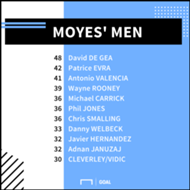 Mourinho might not have won over everyone among the United fan base, but there can be few doubts that the club has moved on leaps and bounds from the depths of Moyes' short-lived period at Old Trafford.