African Nations Championship
Morocco tables bid to stage Chan 2018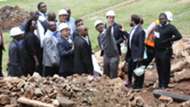 Morocco have put in their bid to host Africa Nations Champions (Chan) 2018.
The North African nation was taunted as a possible replacement for Kenya, who forfeited the hosting rights last week after Confederation of Africa Football (Caf) took away the rights.
Kenya was handed hosting rights in 2014, but failed to convince Caf that they are ready for the January 2018 event, with Caf citing heightened political environment in the country, untruthfulness on the part of government and delayed preparation in setting up needed infrastructure as among issues that made them strip the country of the rights.
The new host will be known early October. The bidding process is set to end by midnight today (Sunday), October 1.
The 16-nation tournament exclusively for locally-based players is scheduled to take place between January 12 and February 4, 2018.
Angola, Burkina Faso, Cameroon, Congo Brazzaville, Equatorial Guinea, Guinea, Ivory Coast, Libya, Mauritania, Morocco, Namibia, Nigeria, Sudan, Uganda and Zambia have qualified for the 2018 finals.