Chelsea
'Morata more like Kane than troublemaker Diego Costa'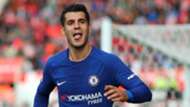 Carlton Cole has been impressed with Alvaro Morata's start to life at Chelsea and thinks the former Real Madrid forward shows his steely determination through his facial expressions.
Morata's goal against Manchester United last time out was his eighth of the season and he appears to have adapted quickly to the Premier League following a £60 million summer move from Real Madrid.
14/5 for West Brom and Chelsea draw
Cole knows all about life at Stamford Bridge having made 31 appearances for the Blues after coming through the club's academy system. The former England international has been watching Morata closely this term and believes that he has what it takes to make a big impact after being charged with the task of succeeding two-time Premier League title winner Diego Costa.
"Morata is very different to Diego Costa," Cole told Goal. "Costa was a troublemaker on the field, he had scandal about him. You look at him and you think, this guy wants trouble, footballing wise, or he wanted to get in the defender's head.
"With Morata, you just have to look in his eyes. He is so determined when you look at him. When the camera is on his face, you see that this guy wants to do well. He wants to prove to people what he is all about and what he can bring to the game.
"I was surprised to see his pace, I didn't know he was that quick, great technique and his finishing skills are on point. The same as Harry Kane really. Kane is surprisingly quick. Morata's goal against Stoke City was like that [Hernan] Crespo goal in the Champions League final with AC Milan against Liverpool.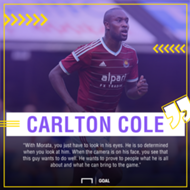 "That chip and curl, what a goal. Morata did that the other day. People didn't rate it as much as they should. I was like 'wow, that guy has confidence'. It was amazing and you don't see that every day. Morata is bringing something different to the table to Costa.
"Costa disrupted a whole team but Morata just does what he is supposed to do and he adapted quick. That's a sign he is a good player. Chelsea put their money where their mouth is with the transfer fee to sign him, scouted him heavily."
Cole is currently a free agent and on the look out for his next move, but he is also planning for his post playing career by doing his level two coaching badges with the Football Association [FA]. The 34-year-old is currently getting some coaching experience at the Ask Godders Academy in west London.
While being complimentary about Morata, Cole has been less than impressed by the club's handling of youth players. He thinks that Michy Batshuayi is no better than Tammy Abraham, who is on loan from Chelsea at Swansea City, a move which has led to him making his England debut.
"I'd say Tammy Abraham on loan at Swansea has shown he is at the same level as Batshuayi," Cole added. "I would have given him a chance and promoted youth. We know he can score goals. I know Batshuayi can score goals as well but we should give our homegrown players a chance.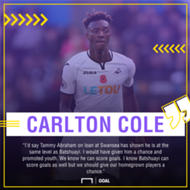 "They are both young players and can both be a threat but I can't understand why there's so many loan deals for the homegrown talent that they could use right now. Batshuayi is youth but the academy has produced. It would be better to give the second striker role to an academy guy. If they are good enough, they are old enough. And I think Tammy Abraham is good enough.
"I was fortunate to have had that opportunity. Yes, I had a loan here or there but I got my move to West Ham. Then I went on to play for England. Playing for your homegrown club though is a great thing. I would say it is actually worse to be signed as a back-up when you come from abroad.
"You want to move country to play regularly, not to be a second choice. When I went to West Ham I wasn't first choice straight away but I made it into the team. I would be worried to sign for big money from abroad only to see another big name come in ahead of me the next season.
"What Abraham just has to do is keep doing what he's doing. He's scoring goals at Swansea and he's working under a great manager that knows him from Chelsea's academy. I'd say he just needs to keep on this path and keep his faith. I made 19 appearances at U-21 level and he can continue doing it at that level.
"He can forge a great career for himself. Even if he doesn't make it at Chelsea as a first choice striker, then he can have a great career. He has to do what's right for himself, his family and make sure he reaches his potential by playing every week. Like he is doing now. Harry Kane made it at Tottenham but he had to work for it, on loan, bad moment, but he made sure he is the man.
"My only problem with Conte is he needs to look at his youth more. He needs to trust his youth, Pochettino has done it. [Harry] Winks, [Dele] Alli, Kane. I don't see why managers don't look at it properly. Abraham should keep dreaming about Chelsea and aim to get as close to that goal as possible. He is young enough to aim for the England number nine shirt, one day, you never know."