Liga MX
Mohamed magic back, Pumas declawed and more we learned from Liga MX Round 15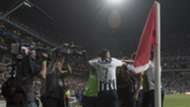 The Liguilla is fast approaching, but the top eight saw surprisingly little movement this week.
We did see movement in the fight to avoid relegation as Veracruz moved off the foot of the table (see thing four) and put Morelia squarely on the hot seat, while Cruz Azul surprised Chivas with a 2-1 victory — too little, too late, for Paco Jemez's side to get into the postseason.
And despite the lack of changes in the upper portion of the table (see point five), we learned many more lessons from Jornada 15. Let's take a look at five of them:
---
Mohamed magic back in Monterrey
---

Coach Antonio Mohamed won titles at both of his previous stops in the Mexican league, with Club Tijuana and Club America. But as his contract comes to an end with Monterrey, he's yet to take Rayados anywhere near the heights he helped those clubs to. But with a 1-0 victory in the Clasico Regio over crosstown rival Tigres, Monterrey now sits second in the table and has the look of a team that can contend for the title.
Mohamed's tactical switch away from the 4-3-3 he had used earlier in the season helped Rayados keep Tigres from having too many scoring opportunities during Saturday's Clasico, and while a set piece goal from Cesar Montes was the only time the team found the back of the net, Dorlan Pabon and Rogelio Funes Mori found chances they weren't able to convert.
It feels once again like Mohamed magic, the little something extra that the Argentine's teams had, is present now in the north. Things haven't always been rosy for Rayados, with fans even calling for Moahmed's head after a home Copa MX defeat earlier this year, but the rivalry win and the strong tournament have them feeling differently now.
"For me, it's an enormous feeling of happiness, for the fans, for the people that work in the club," Mohamed said after the rivalry win. "What's left for us now is to go for the title."
---
Xolos belong to top tier
---

In a battle of the top two teams in the table, only one put up a real fight. Cub Tijuana dominated Toluca on Friday, coming away with a 2-0 victory in one of those matches that easily could've been 4-0 or 5-0 to the home side. Tijuana's Estadio Caliente hadn't been as strong of a fortress as it traditionally is, but a sold-out crowd was rewarded with an excellent performance from Xolos.
Victor Ignacio Malcorra had an excellent night on the left for Xolos, with the team working to find him and seeing their efforts pay off when he set up the first goal for Joe Corona.
He then scored a goal of his own to cap off a night that showed the team belongs to the league's upper echelon. The success the team has had away from home this tournament stands in contrast to previous years and perhaps will help Xolos avoid an early — and embarrassing — exit in the Liguilla. For now, the team stands as the leader and could head into the postseason as the No. 1 seed for the second tournament running.
"We still have that thorn of the last tournament with us, getting knocked out in the first matchup — the truth is it hurt us a lot," Malcorra said. "For now, we're doing well, we're on a good path and we have to continue on in this way to try to get to our top capability."
Beating the previously No. 1 team was a great step, and even if Xolos slip up in the final two matches, they'll arrive in better form than they did the previous Liguilla.
---
Santos able to punch back
---

We'd seen this before. After all, we haven't taken to calling Los Guerreros "Stalemate Santos" in this column for nothing. The team has nine draws this year, and after former favorite son and current Club America forward Oribe Peralta equalized late to make it 1-1 Sunday it looked to be on pace for 10, a number of draws just one team in the past 10 tournaments has achieved. It would've been the ninth time this season that Santos had a lead and wasted it to settle for a point.
But Santos showed that they have a bit more fight than they had in recent matches, with Diego de Buen finding the winning goal as coach Jose Manuel "Chepo" de la Torre celebrated and then insisted to the fourth official there was no more time remaining.
"We're clear that the first minute of the game is as important as the last," he said, "and you have to play them to the maximum ability as the team played today."
Fair enough, but that celebration showed that the last minute has become pretty important for Santos. The Liguilla was in doubt — somewhat laughably for a team that has only been defeated once this season — but the three points over Las Aguilas should mean postseason play for Santos. How they do will depend on if they can show the same fight they showed late Sunday — especially away from home.
---
Pumas hit rock bottom — at least they hope
---

Veracruz is a team fighting relegation that hadn't won away from home since the 2015 Apertura. That means nearly three whole tournaments have passed. And yet, when the final whistle blew Veracruz came away with a 2-0 victory, breaking its long streak and pushing Pumas down to the 12th place in the league.
It wasn't just that the Tiburones Rojos had come into the CU and emerged with a victory for the first time since 2004 (well, maybe that was bad enough), but also the relative ease with which it came and the total lack of ideas from 10-man Pumas about how to come back from an early deficit. For fans of the excellent Pumas English blog, it was fair to call it the worst performance of coach Paco Palencia's coaching tenure.
Very fair, @ArnoldcommaJon. https://t.co/dcSheeG0TD

— PUMAS MX English (@PumasMX_Eng) April 23, 2017
@ArnoldcommaJon @PumasMX_Eng It hit rock bottom and then some today for sure. Embarrasing performance.

— Jay Rod (@jrod61906) April 23, 2017
A few weeks ago, we highlighted how Toluca went after center back Dario Veron and came away with a winning goal. Other teams clearly have studied that formula, and this time after Veron lost the ball, he also lost his head and got sent off for a stomp. Center forward Nicolas Castillo, who is still tied for the league lead with eight goals, was sent off late. Palencia didn't speak with the press after his sending off, meaning an assistant spoke at the postgame news conference.
Forward Matias Britos did address the media, saying, "We know that we must get a lot better. It wasn't a good game and we have no choice other than to be better than ever in the two weeks that remain."
Even that may not be enough.
---
Liguilla spots not as sought after as expected
---

Pachuca entered the weekend in a difficult place. The second leg of the CONCACAF Champions League is next week, and with the aggregate score level heading into the home leg Tuzos have to like their chances. But they entered the weekend in the eighth and final place and traveled to Atlas, a fellow playoff hopeful on a bit of a run.
WATCH: Darlington Nagbe's golazo
And it so it was that they went into the Estadio Jalisco and put up a fight with an alternate side, and end the weekend — wait, still in eighth? None of the teams below them bothered to win?
So it was this weekend. Pachuca, Tigres, Pumas and Morelia all dropped results, while Leon continued its unbeaten run and just weeks after sitting at the foot of the table now is firmly back in the race for postseason action with two weeks left. That means Tuzos get a gimme of sorts, free to chase the CCL title and refocus for the last two weeks of the season to try and fight for a double.
Don't get it wrong — those other teams want to get into the playoffs, and generally have talent that will push the No. 1 or No. 2 seed when they're in the quarterfinals, but it wasn't the finest of weeks for the middle of the pack.
---
Goal of the Week
---
This definitely wins most deceptive Goal of the Week, and we're going to go ahead and give it the nod. Watch closely. It fools the announcer the first time around. After Bryan Garnica finds space, it looks like Martin Barragan has put in an impressive bicycle kick, but in reality he's totally missed and allowed teammate Matias Alustiza to head past Pachuca goalkeeper Oscar Perez.
---
Weekly Whimsy
---
Ontem pelo Tequilão, Carlos Sanchez quase faz essa beleuzura de gol. pic.twitter.com/Xu3UzmAH1g

— Warwick (@wknihilcore) April 23, 2017
There's a short distance from Goal of the Week to Weekly Whimsy, and this Carlos Sanchez shot from midfield is just inches away from going into the category above. The whimsy, however, comes from the fact that the only touch Tigres goalkeeper Nahuel Guzman manages to get on it is not as it's bound for the goal but rather when it pings off the crossbar and hits the goalkeeper.
The Argentine shot-stopper, who was dashing back again minutes later on another attempted long bomb, will be plenty relieved that it ended up out of play rather than an embarrassing own goal.