Mexico
Mexico should have fun with meaningless third-place game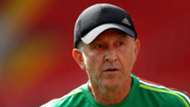 Nobody wants to play a third-place game. Cristiano Ronaldo left Russia days ago and Mexico's players must be tempted to follow suit.
But the team is still intact, getting ready for Sunday's match against Portugal in Moscow.
These games are horrible, existing only for tournament organizers to put on another match, get another game for rights holders to broadcast and for fans to buy tickets to. Would there be that much of a difference between a Mexico win, meaning the team finished third, or a loss, meaning it finished fourth? No. Either way, Mexico didn't make the final and didn't win the tournament.
PSG edging Man Utd in Fabinho hunt
"We're again playing against the champions of Europe. We continue to speak about our team's need to play in these type of games," Mexico coach Juan Carlos Osorio said at a news conference. "We've got 15 players (based in clubs) in Europe and also for those in Mexico it's good to compete against these individual national teams because the benefit goes to both the individual and the collective. We're going to give our best to win."
It's true there can be shared benefit from these games, but perhaps more so for players who are not used to playing against top competition. That's why now is the time for Osorio to try out some weird things — not that he's ever been hesitant to do so in the past. With the game cruelly starting at 7 a.m. Mexico City time (5 a.m. on the Pacific coast), Mexico fans need something to smile about. Here's how to give it to them.
---
PLAY COTA
---

Mexico coach Juan Carlos Osorio has used 22 of the 23 players in his squad during this tournament. Now is the time to use No. 23. Chivas goalkeeper Rodolfo Cota only has one Mexico cap, and being just two years younger than 31-year-old No. 1 Guillermo Ochoa, might not have an opportunity to play many more. A game against the current champion of Europe would be an excellent memory for Cota and one in which he would surely deliver his best possible performance.
It's not like Cota is a bad goalkeeper, and there's also precedent for Osorio giving all three netminders an opportunity, as he did during the group stage of the 2016 Copa America Centenario with Ochoa, Alfredo Talavera and Jesus Corona.
---
START A YOUTH MOVEMENT....
---

This is an excellent chance for some of the younger players who saw minutes in the tournament but didn't have significant responsibility to take on the challenge of representing their country at the highest level. Jurgen Damm, Luis Reyes, Oswaldo Alanis in a position he actually knows how to play and even Hirving Lozano all fit that profile. Osorio believes these players have the talent to be on this team but they were used sparingly. They can get more meaningful minutes Sunday.
There are transfer targets like Ochoa and Javier "Chicharito" Hernandez who perhaps could see a minimal uptick in interest or transfer fee with a third-place finish, but what are those players going to show against Portugal that they didn't the first time around? Ochoa starred in that contest and Chicharito scored. Play the kids and get them ready for big matches in the future.
---
... EXCEPT FOR RAFA
---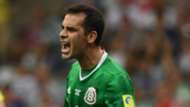 If Rafa Marquez, the Mexico legend, can play a full match, get him in there. This tournament showed that Mexico may still be lacking in defense and central midfield, two areas where the 38-year-old Marquez has helped El Tri for so long, but the side is finally ready to move on. Diego Reyes and Nestor Araujo finally are passing Marquez on the depth chart, and his time with Mexico maybe drawing to a close. 
Mexico not among world's elite
Not only would it be good for Marquez to get minutes with Mexico for ceremonial reasons, it also would allow Osorio to see just how well he is or isn't able to perform after a back injury in March that kept him from the field until this summer. Did Osorio make a mistake not giving Marquez a bigger role in Russia? It's doubtful, but if Marquez turns in a great performance, it can give Osorio something to think about going forward.