Mexico
Mexico looking for complete performance against Cuba to get Gold Cup campaign off to flying start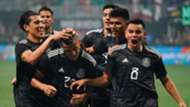 There hasn't been much to criticize in the Tata Martino era.
Since taking over as Mexico manager, Martino has led the team to four victories in four games. Each win came over a South American team and saw El Tri score three or more goals. Even Mexico's notoriously fickle fanbase has been placated.
Yet Martino isn't satisfied, and as he faces his first official match Saturday against Cuba, he's looking for an even better showing than the ones his team produced in the pre-Gold Cup friendly matches.
So too will Mexico's fans. While this is the first game that really means something for Martino, it's also one in which a defeat would be far less forgivable than a friendly contest against a South American team. El Tri fans expect to get nine points from the Gold Cup group stage, especially with the first game against a team that Mexico has beaten in the last 12 meetings by a 44-6 aggregate scoreline.
Cuba's reality is far different from Mexico's. Some of the players who could represent the country, like Norwich City attacker Onel Hernandez or veteran Minnesota United midfielder Oswaldo Alonso, aren't allowed to because of political situations. More are likely to separate from the team while in the United States for this Gold Cup. It's a Cuba team far from being able to reach its true potential, which makes Martino even more hopeful his squad can put together a complete performance unlike the ones they did in the four friendly matches.
"Since Mexico, we've been getting to know every one of the players as far as the way they were playing in the friendly matches and now it's time to inform ourselves about Cuba, about some of the difficulties they've had with getting visas for some of their players," Martino said at a Friday news conference. "The majority of the players play in Cuba and the Dominican Republic.
"The most important thing is to play 90 minutes in an intense way, even and as the attacking team, trying not to give the opponent any type of chance."
Mexico has been good in the Martino era, but it hasn't been perfect. The team is yet to keep a clean sheet, something that will be an objective against a limited Cuba attack. Maykel Reyes was injured all year but is fit ahead of the Gold Cup, while Luis Paradela scored five goals in the Guatemalan league. Each were kept scoreless in preparation matches against the Dominican Republic's Under 23 team, and Mexico's defense should be at a different level than the young Dominicans. That said, there's not a lot of info out there on some of the Cuban players or what coach Raul Mederos plans to do.
"It's difficult to do an analysis beforehand of what the opponent is able to show. I'm expecting a game in which Mexico will have the majority of the ball and they wait for the counter-attack," Martino said.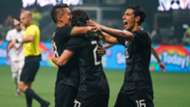 El Tri should be able to shut down those counter-attacks. The eight Cuban players on this roster playing outside Cuba all play in leagues of inferior quality than Liga MX. That said, Martino and Mexico will be aware that even if the group stage has looked like a cakewalk, they've gotten all nine points out of the group just once since the Gold Cup expanded to four-team groups in 2005. That's once in seven tournaments.
The build-up to this one has focused more on who isn't here for Mexico than who is. With players like Hector Herrera and Javier "Chicharito" Hernandez getting excused absences of sorts and those like Carlos Vela and Javier Aquino outright rejecting the idea of being in the national team, plus an injury to star winger Hirving Lozano, it's been tough to focus on the players who have travelled. Yet it's with that group, with Raul Jimenez and Rodolfo Pizarro with Carlos Salcedo and Jesus Gallardo, with Andres Guardado and Jonathan dos Santos, who Martino will look to lift the Concacaf championship with.
"I'm really happy with the players who are here and who we're going to compete with. Surely, they'll all grow with the participation we have in the Gold Cup," Martino said. "Every moment together, whether it's in friendly matches, official competition, it's a new chance to get better and to grow as a team and show our best version. So, in no situation can we think about the players who aren't here because they're not here for different reasons," he continued, noting the case of Miguel Layun who had a cancerous tumor removed is very different from the players who declined call-ups.
"For us, it's a great opportunity to be together, to live with each other, to compete and to keep growing," he said.
That's Mexico's obligation Saturday. To beat Cuba in a convincing way, to grow from its previous showings and to put together its most complete performance yet.