Lionel Messi
Messi mistakes Zenit forward Driussi for a fan during Argentina's trip to Russia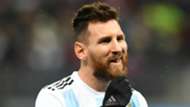 Lionel Messi has been forced to apologise for Zenit forward Sebastian Driussi after mistaking his fellow Argentine for a selfie-seeking fan.
The Barcelona superstar is currently in Russia ahead of an international friendly date with his country.
Ahead of that contest, the 30-year-old has been fulfilling his usual round of photo and autograph duties.
Among those to have made the most of an opportunity to grab a moment with the five-time Ballon d'Or winner is Driussi, although Messi initially failed to recognise him.
The Zenit striker uploaded his picture to Instagram with the caption: "Thanks for the photo IDOL Leo Messi".
Having realised who he was pictured with, Messi later apologised and admitted to Fox Sports Argentina that he is fully aware of who former River Plate star Driussi is.
He said: "I felt bad for not having recognised him at the time because I do know him. I know who he is.
"When he asked me for the photograph I thought he was one of the guys that are always waiting for a photograph.
"When I saw the photograph on Instagram I apologised to him. We had exchanged messages in the past via someone else and we share the same tattoo artist."
If he figures against Russia on Saturday, then Messi will take in his first international outing since guiding Argentina to the 2018 World Cup.
With their place at next summer's showpiece in serious doubt, the Barcelona talisman netted a timely hat-trick in a final qualification clash with Ecuador to see the 2014 runners-up through.
That treble forms part of a 19-goal haul for Messi this season, with that tally for club and country achieved in just 21 appearances.