Barcelona
'Messi has no ego' - Suarez hails 'beautiful relationship' with incredible Barcelona team-mate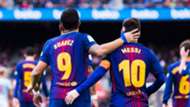 Luis Suarez has hailed the ability of "incredible" Lionel Messi to remain grounded at Barcelona despite his record-breaking achievements.
The mercurial Argentine has long been hailed as one of the finest performers in this or any other era, with his remarkable accomplishments raising the bar of individual excellence.
He has complemented countless collective honours with five Ballons d'Or and a stunning haul of 552 goals for Barca.
Messi has, however, been a team player throughout his time at Camp Nou, with the 30-year-old proving to be a selfless colleague to Suarez and the rest of a star-studded cast in Catalunya.
"Leo is my colleague and friend, a fine person and a great family man," Suarez told Kicker on a man he has spent four memorable seasons alongside.
"I do not see in him the Messi that the rest of the world sees.
"But there are moments on the field with me, too, when I realise what a great footballer he is and what incredible things he does."
Uruguay international Suarez added on a fellow South American who has helped him to star at Barca with his actions on and off the field: "We are not only footballers, we are also fathers, we have similar habits and are almost at the same age.
"We enjoy having fun, drinking mate, sometimes eating together. This has resulted in a beautiful relationship. And over time a big trust as well.
"In football it is difficult to find a real friend, especially if he plays in the same position. There are also many egos in a team. That was never the case in our team. That has been proven over the years.
"He also helped me to win the Golden Boot. There is no jealousy between us, just pride at sharing things with a friend."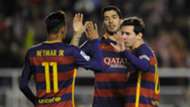 There was a time when Suarez and Messi formed part of a fearsome trio of attacking talent at Barcelona, with Brazilian star Neymar joining them in the destructive 'MSN' unit.
He was, however, to leave for Paris Saint-Germain in the summer of 2017 after deciding to become a talisman in his own right.
Suarez claims that Neymar had doubts about whether he was making the right choice before heading to France, but the 26-year-old is being backed to fulfil his undoubted potential with the Ligue 1 champions.
"We talked to him, Messi and I, because Ney asked us for our opinion," said Suarez.
"He had doubts. He was here for a long time and he had everything he needed here.
"I don't think he went for the money: He has other goals he wants to achieve with Paris."