MLS
Media Microscope: Examining the state of MLS newspaper coverage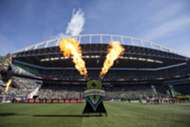 Major League Soccer, perhaps more than any other major American professional sports league, relies on media coverage from non-traditional outlets.
While most newspapers still assign at least one full-time beat reporter to local NBA, NFL and MLB teams, many MLS markets do not have a local full-time newspaper beat writer, leaving blogs, national outlets and the official league and team websites to fill in the gaps.
A sad illustration of the league's newspaper presence came last week when highly respected Seattle Sounders beat reporter Matt Pentz announced on Twitter that he was among a round of layoffs at The Seattle Times.
Pentz's departure followed a similar announcement in June from Tacoma News Tribune reporter Don Ruiz, who had been on the Sounders beat since the team joined MLS in 2009.
Suddenly, the defending MLS Cup champion — one of the league's most high-profile franchises which annually leads MLS in attendance — is without a single full-time newspaper beat reporter in its local market (The Seattle Times has announced Pentz's replacement, who will cover the team in addition to maintaining other duties in the sports department).
Seattle isn't alone. Several MLS clubs in large media markets, including the two New York teams, the New England Revolution and the Chicago Fire lack even one full-time newspaper beat reporter in their area.
In total, only about half of the league's teams have a local newspaper reporter whose main focus is soccer and/or MLS.
The MLS Wrap: Danladi's delayed arrival finally happens
Before going any further, we need to state the obvious: The newspaper industry is not in what you'd call tip-top shape, and MLS still ranks behind more high-profile sports in most markets, making consistent coverage of local soccer a difficult proposition for many periodicals.
Still, when half the league lacks even one traditional beat reporter in their market, and when respected and talented newspapermen are falling by the wayside in Seattle of all places, it's not exactly a great look.
While newspapers in large media markets decline to prioritize MLS, some encouragement can be gleaned from some mid-sized cities where more resources are being devoted to covering local soccer.
Full-time soccer reporters are on staff at newspapers like The Orlando Sentinel, The Oregonian, The Star Tribune (Minnesota) and The Columbus Dispatch. The presence of these reporters speaks to the relevance of these MLS clubs in their local markets, as well as, in some cases, a lack of other professional teams to sap up newspaper resources.
Smaller newspapers are also able to narrowcast their coverage and tailor it more to their local market. The New York Times better serves its wide-reaching audience by covering U.S. national team and European soccer stories, while The Oregonian satiates its readers with Timbers injury updates and deep dives into Caleb Porter's latest formation change.
It should be noted that there are some exceptions to this rule, as large papers like The Los Angeles Times and The Washington Post do have staff reporters whose main focus is soccer and the areas' local MLS teams.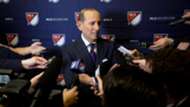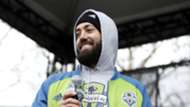 As newspapers continue to lose relevance, do MLS teams really even need their daily coverage? The answer isn't quite clear.
Fans seeking daily coverage of their favorite MLS team have grown accustomed to finding it outside of the realm of newspapers. When a lack of a daily beat reporter in MLS markets creates a vacuum, blogs, localized soccer websites, the MLS website and team websites step in to fill the void.
A New York Red Bulls or New York City FC supporter knows they won't find daily coverage in New York's three major newspapers, but the official team websites, and sites like Empire of Soccer and Big Apple Soccer are able to step in and generate traffic and ad revenue from devoted fans looking for injury updates and quotes from training.
Meanwhile, the large periodicals in New York are able to use their platforms to break news and write more lengthy features outside the realm of day-to-day happenings within the Red Bulls and New York City FC.
It all works rather harmoniously in theory, but it's a system that still restricts access for more casual fans.
There is an air of legitimacy that daily newspaper coverage still provides to an MLS team. When MLS news is pushed off the pages of major metropolitan periodicals and onto websites with more niche followings, it sends a message to those casual fans: MLS isn't big-time quite yet.
That's the message the Seattle Times is sending, whether it's intended or not. In Seattle, the Sounders are big-time though, so a larger swath of the readership suffers there when Pentz and Ruiz leave the beat.
With budget cuts an all-too-common reality in the newspaper business, MLS can only hope a changing industry doesn't leave more of its teams in the dust.