Brendan Gan
Davies backs Brendan Gan to succeed at Perak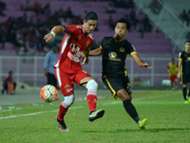 Perak have pulled off a real coup beating a whole host of teams to the signing of Brendan Gan. The 29-year-old will be a key figure for the Bos Gaurus as they go in search of a top three finish in the 2018 Super League season.
Gan who last played for Kelantan, had been out recuperating from a second ankle cruciate ligament surgery having previously suffered the same injury but on a different knee. Paid for his own rehabilitation back in Australia, Gan has worked very hard to come back to fitness through a much longer period.
Gan was part of the 20 players announced by Perak for the 2018 season where 12 players from the 2017 squad were retained - Hafizul Hakim, Nazirul Naim, Shahrul Saad and Ahmad Khairil Anuar among those staying with the team.
Fellow Australian-born Malaysian, Pahang's Matthew Davies is convinced that the time out with injury only made Brendan stronger and that he will become a pivotal player for Perak in the upcoming season.
"He's a massive signing for Perak. A lot of people forget about Brendan is that he has been unlucky with these two injuries but besides that he's not injury-prone. He doesn't break down during the season, always reliable and consistent. The tag that he has of being injury-prone is a little bit unfair."
"They are very lucky to have him. I was personally hoping that Pahang would sign him [chuckles] but it wasn't to be. It's a just a very good move from Perak," Davies told Goal.
Davies himself is recovering from a minor groin injury which saw him also replicating Gan in forking out his own money for rehabilitation back in Australia. That was one of the reasons why Davies was allowed to report later than the others for the Malaysia Under-23 training camp.
The Pahang captain is confident that full fitness is merely weeks away and that he will be available for selection when the AFC U23 Championships come around early next year.
"Given the amount of games I've played in the last few years, it's bound to be break down some point. For it only to be a minor injury and a short rest time, I'm pleased with that. I feel like I'll be coming back quite strong and fitness not too far away."
"I say I'm about 80% and at the end of this week, I'll be able to do some passing drills and then next week hopefully rejoin the rest for the full training. Luckily we have a long time to prepare and I'm not worried about the group stage," added Davies.