KPL
Mathare United calls for open try-out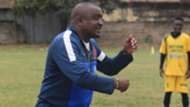 Mathare United will not poach players from other clubs but instead, will keep to their tradition of revamping the senior squad from the MYSA age group programmes.
As such, the 'Slum Boys' are looking forward to strengthening the MYSA academies by recruiting at least two players next week.
Mathare United coaches will conduct a two-day open session where at least two highly talented players may have the opportunity to join the prestigious MYSA U-20 squad that acts as the feeder to the senior team.
The club will hold open training sessions on Wednesday and Thursday next week at the Goan Institute Grounds.
"We may absorb two or three highly skilled players who will impress, to join our U-20 team. That is why we are very strict on the age group," the club's Media Liaison officer, Samuel Gacharira told Goal.
These sessions will be open to the public and interested players are required to report by 8am. They should be between age 18-23."
Mathare United finished 13th in the Kenyan Premier League last season.