Wellington Phoenix
Mark Rudan all but confirms he is leaving Wellington Phoenix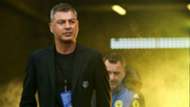 Wellington Phoenix coach Mark Rudan has fanned the flames of his impending departure from the club, admitting the players know what's going on and refusing to deny speculation he is leaving.
Reports surfaced during the week that Rudan had told the Phoenix he intended to depart at the end of the season and the Australian did nothing to douse the rumours after his team lost 2-1 to Brisbane Roar on Friday night.
Rudan said the players were aware of his future plans prior to the 8-2 belting they handed out to Central Coast Mariners in early March and said an official announcement would eventually be made by the club going forward.
"What's important with the speculation is that once it started I was very upfront and honest with my football club and with my players as well," Rudan said.
"Everyone knows at the football club what's going on.
"It was known before we scored a record number of goals in three games (15).
"People tend to start talking or giving reasons about why we lost last week or this week.
"It makes no difference, it's not an excuse.
"The people that need to know, the important ones, they know what's going on. It's as simple as that. It won't hamper anything."
Rudan has been linked with the jobs at new A-League franchises Western United and South-West Sydney after admitting he was suffering homesickness from his family while in New Zealand.
In his first season in charge, the 43-year-old has led the Phoenix to the brink of a top-four finish, attracting big crowds and playing exciting football along the way.
However, the Phoenix have lost their last two matches, including last week's 3-1 defeat in Adelaide, and are now at risk of dropping to fifth position if the Reds or Melbourne City get a result in their battle on Saturday.