Diego Maradona
Maradona must stick with Dorados to be taken seriously as manager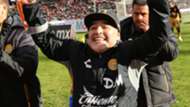 Pep Guardiola arrived in Sinaloa in 2006 ready to learn. With his playing career all but over, he made one final detour in Mexico to play for and get knowledge from then-Dorados manager Juanma Lilo. Two years later, Guardiola was coaching Barcelona.
Sinaloa once again is serving as a learning lab for one of the game's greats, with Diego Maradona currently leading second-division side Dorados. The move shocked fans in the Americas when it was abruptly announced in September . Despite being one of the best to ever play the sport, Maradona's coaching career has been a string of false starts.
With Dorados, however, Maradona has overseen a run of five consecutive victories, engineering an impressive turnaround that resulted in the club locking up a playoff spot regardless of what happens in Saturday's regular-season finale against Atletico San Luis. All six of their wins this tournament have come under Maradona, with the attack finding its form and a balanced team emerging.
The circus has moved on since Maradona's internationally televised arrival, with the eyes of the world's sporting press focused elsewhere. There's the odd tabloid write-up on the 58-year-old heading out to the new steakhouse in town on a date. There was the wave of controversy when he made the decision to go on live television and take rambling potshots at Leo Messi. Mostly, though, he's been left to actually do his job.
That is good for Maradona. If he truly wants management to be his next step, a career he could reasonably dedicate the next decade to, he must establish some level of continuity. Making the playoffs in the second division is great. Seven other managers do it every six months. Winning promotion would be a real achievement. 
With Maradona's sudden success, some fans are already hoping to see him leave Dorados for a more high-profile role. With the coaching job open at Club Tijuana - the Liga MX outlet owned by the same enterprise that owns Dorados - there has been speculation that the coach may be 'promoted' before his team. Even if it's a logical link, it is not one happening in the immediate future.
"We're focused on Xolos, and Diego has a contract and a project with Dorados, so we are not thinking of him an option," Tijuana sporting director Ignacio Palou said at a news conference last week to announce Franky Oviedo as the Liga MX side's interim manager.
There was an important word there: "Project." Getting the most out of a young team, preparing his players for bigger heights and ultimately getting the team back into the first division should be the goals for the coach. That takes times. It takes real work.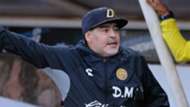 Maradona's early returns have been promising, to the surprise of many critics who were expecting yet another flame-out. Now it's time to prove that he can sustain those results - or at least something resembling long-term success. 
Surely Maradona has plenty to offer as a manager could he actually harness and focus his energy and effort? Not all great players become great managers, but Maradona clearly commands respect and is doing something right with Dorados.
The best way to prove he can be a success on the touchline is to press on with the current project, to look to win a spot in the spring 2019 Promotion Final by triumphing in the playoffs this winter, making moves in the transfer window and looking to lock up a first-division place with a strong Clausura.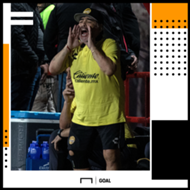 Even if Dorados don't achieve promotion, perhaps a Liga MX job would be right after two tournaments in Sinaloa. Maybe even a return to his native Argentina would be a possibility. With all respect to Brest, which no doubt is lovely, coaching in Latin America is a career path that makes a whole lot more sense than Maradona calling the shots from a directors' box in Belarus.
It is a task that will require Maradona to be able to command respect for much more than simply his name. After his frightening fainting episode at the World Cup, the rambling interview about Messi and, frankly, showing up in a place known more for drugs (and baseball) than soccer, it was not clear if any good would come from Maradona heading to Culiacan.
Now we've seen the start of something positive for both the club and the man. Maradona never will reach the heights of Guardiola, but it's possible he could become a respected name in football once again rather than a sideshow whose glory days are decades behind him.
The best way to make that happen is to find stability and continue on the journey he has embarked upon. Maradona must ignore the allure of a Liga MX job or the other offers that will come should the good results continue and finish what he's started in Sinaloa.